Trustee Bio
Rebecca Chan, CPA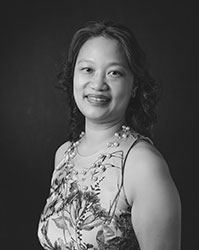 Rebecca Chan is a licensed CPA and Labor Efficiency Manager at Providence St. Joseph Health, with more than 15 years of healthcare finance experience. She earned a bachelor's in business administration with a concentration in accounting from University of Washington, where she was active with Asian American groups on campus.
Rebecca's hometown is Vancouver, WA. Her maternal grandfather was a paper son who bravely came forward during amnesty in the 1960s to apply for his family to come to the United States from Hong Kong. The family fled communist China due to their social-economic status. Rebecca's grandfather worked for the Portland Fish Company in Astoria processing salmon eggs for shipment to Japan. Her father was a teacher in Hong Kong where education and teachers are highly regarded.
Knowing her community and participating in civic engagement are part of Rebecca's core values. She firmly believes that healthcare and education access are human rights. She has volunteered with a variety of nonprofit organizations for many years, including Organization of Chinese Americans, (now OCA Advocates, Greater Seattle Chapter), Harborview Community Service League (where she earned a Volunteer Service Award), and the United Way as a volunteer tax preparer.
She was a participant of the 2002 Asian Pacific Islander Community Leadership Foundation leadership program and a working group member of the National Asian Pacific American Women's Forum. She received the Acorn PTA 2019 Outstanding Advocate and 2021 Lifetime Achievement Awards. In 2019, Rebecca was appointed to a partial term on the King County Women's Advisory Board. She is now serving her first full three-year team on the board, which is currently studying gender-based violence. Recently, Rebecca was selected as a participant of the Providence St. Joseph Health Mission Leadership Academy for passionate next-generation leaders.
Rebecca resides in Shoreline with her husband, son and daughter. They all advocate and champion various diversity, equity, and inclusion efforts within the Shoreline School District.