College Leadership
Board of Trustees
The Board of Trustees is a five-member board appointed by the Governor of the State of Washington and confirmed by the Washington State Senate. The role of the Board is to provide leadership through policy governance of the College, and though selection, supervision, and evaluation of the College President.
President
Dr. Jack Kahn
President
Dr. Jack Kahn joined Shoreline Community College on July 1, 2022.
With over 25 years of experience in higher education, including more than a decade in leadership roles, Dr. Kahn often shares his career goal of "bringing diverse people together to create systems that are integrated with the broader community to serve students, particularly with a lens toward equity."
Before arriving at Shoreline Community College, Dr. Kahn's most recent leadership roles were at Palomar College in San Marcos, California. Here he served as an interim superintendent president, the assistant superintendent/vice president for instruction and the dean of the division of social and behavioral sciences. Prior to his work in academic leadership, Dr. Kahn was an active faculty member and published researcher and author of works addressing issues of psychological testing, masculinity, and social justice.
The first person in his family to pursue a four-year college degree, Dr. Kahn earned his bachelor's degree in psychology with a minor in philosophy from Arizona State University. He went on to earn a Master of Arts in marriage and family counseling from San José State University before attending the State University of New York at Buffalo to earn a doctorate in counseling psychology.
In his spare time, Dr. Kahn enjoys seeing live music and theater, traveling, exploring new neighborhoods, trying new restaurants, hiking, reading, gardening, cooking, and spending time with his wife Jackie, two dogs, and cat.
Executive Team
The Executive Team is comprised of executive leaders who represent each area of the College and work directly with the president to provide strategic direction and input.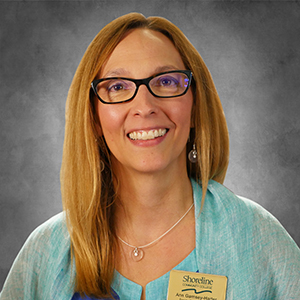 Ann Garnsey-Harter
Associate Vice President for Learning Resources & Institutional Effectiveness
Dr. Ann Garnsey-Harter provides strategic leadership for two major areas of campus: Learning Resources and Institutional Effectiveness. Learning Resources includes the following departments: Classroom Support Services, Continuing Education, eLearning Services, Faculty Professional Development, Library, Rentals/Events, and the Student Learning Center. Institutional Effectiveness includes the department of Institutional Assessment and Data Management, which leads academic operations and instructional support; curriculum management and class scheduling; grant development; institutional assessment and program review; research, reporting, and data management; and ctcLink systems user analysis and support. Ann also is co-lead on the Shoreline Pathways (aka Meta Majors) portion of the Guided Pathways project, in addition to serving on the College's collective bargaining team.
She has been a higher education administrator for over 20 years. Her professional experience is grounded in her experience teaching college English part-time in all delivery modes (online, hybrid, and face-to-face). She holds a Master of Arts and a Doctor of Philosophy in English from Washington State University.
Personally, she loves the outdoors and can be found hiking, backpacking, camping, and kayaking with her husband and two boys.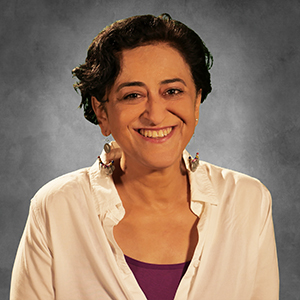 Samira Pardanani
Associate Vice President - International Education & Global Engagement
Samira Pardanani is the Associate Vice President of International Education and Global Engagement, charged with providing leadership to programs integral to the student experience at the College.
In her previous role as Executive Director of Shoreline's dynamic International Education department, she led a high-functioning and innovative team whose work placed the College among the country's top 20 community colleges hosting international students. The College has been featured in multiple national publications for best practices in enrollment management, student services, and campus internationalization. As a leader in the field, Samira has served as a frequent presenter and as an advocate for community colleges.
Samira is excited to dive into the work of serving all Shoreline students, working with campus stakeholders to pursue opportunities to enhance the student experience, with a special focus on diversity, equity, and inclusion, and reducing opportunity gaps. She is skilled at identifying individual strengths of staff and facilitating increased ownership and engagement in their work.
Samira holds master's degrees in German and TESOL, and has been educated in India, Germany, Austria, and the U.S. She speaks multiple languages and wholeheartedly embraces the value that diverse life experiences bring to the table. She spends her free time with her family and friends, enjoying good food and laughter, and also loves to dabble in different hobbies.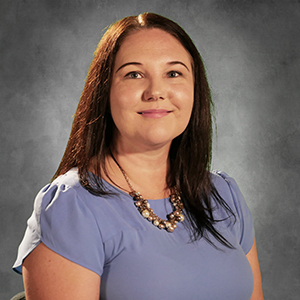 Veronica Zura
Executive Director of Human Resources
Veronica Zura has served the College in the Office of Human Resources since August 2004 with direct experience in each of the individual positions staffed in HR. Ms. Zura holds a Bachelors' degree in Psychology from Western Washington University, with a minor in Internet Resource & Creation. Ms. Zura obtained her Professional in Human Resources certification in February 2011, the ATIXA Title IX Level 1 Certification in June of 2016, and the OSU Search Advocate certification in November 2018.
Ms. Zura provides executive leadership to campus in the areas of employee relations, compensation, benefits, recruitment/selection, and collective bargaining/labor relations. During her free time, Ms. Zura enjoys movies, puzzling, and cribbage.
Senior Leadership
The College's senior leadership reflects deans, directors, and executive directors who report directly to a member of the Executive Team.
Lianne Almughirah, Director of International Admissions & Student Services
Chitpasong "Chippi" Bello, Dean of Access & Advising/Director of AANAPISI
Mary Burroughs, Dean of Health Occupations & Nursing
Kimberlee Clark, Director of Facilities & Capital Projects
Greg Cranson, Acting Director of Safety & Security
Nancy Dick, Executive Dean of Humanities & Transitional Studies
Cliff Fredrickson, Director of Budget Office
Bo Fu, Acting Director of International Outreach
Randy Gottfried, Director of Classroom Support Services
Guy Hamilton, Executive Dean of Workforce & STEM
Mari Kosin, Director of Advising, Running Start & First Year Experience
Derek Levy, Dean of Student Support & Success
Dawn Lowe-Wincentsen, Associate Dean of Library & Learning Resources

Jonathan Molinaro, Associate Dean of Transitional Studies

Brigid Nulty, Director of Guided Pathways

Dalila Paredes, Associate Dean of Workforce & STEM
Shanon Reedy, Associate Dean of Business, Communication Studies & Social Sciences

Amy Rovner, Acting Director of eLearning Services

Lucas Rucks, Executive Dean of Business, Communication Studies & Social Sciences

Gavin Smith, Acting Director - Technology Support Services
See the College's Organizational Chart or view the Employee Directory.