Directions to Campus
Shoreline Community College
16101 Greenwood Ave. N
Shoreline, Washington 98133-5696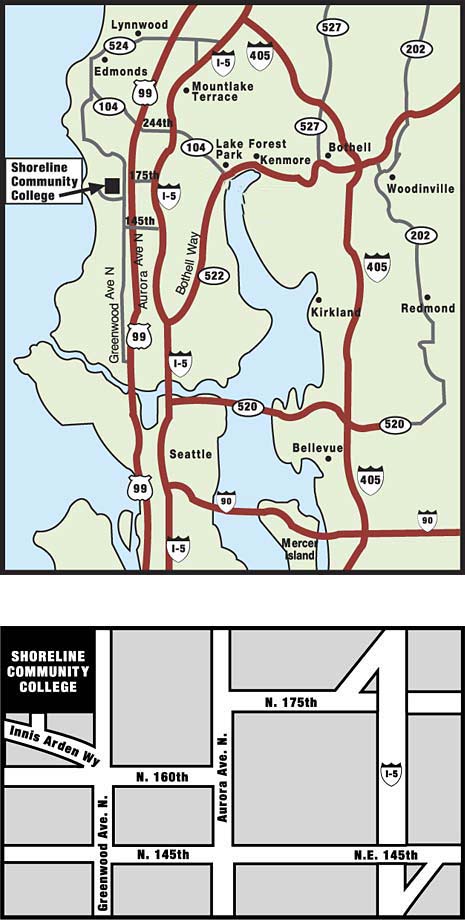 Directions to the campus
From Seattle (South)
I-5 North to 145th Street (Take Exit 175)
Turn left over the freeway on 145th Street
Continue along 145th Street to Aurora Avenue (Hwy 99)
Turn right onto Aurora Avenue
Continue north Aurora Avenue to 160th Street
Turn left at 160th Street
Continue on 160th Street through one stop light (Dayton Avenue) to stop sign at Greenwood Avenue North
Turn right onto Greenwood Avenue North, then a quick angle to left onto Innis Arden Way
Entrance to campus about 50 feet on the right
From Everett (North)
I-5 South to 175th Street (Take Exit 176)
Turn right onto 175th Street
Continue on 175th Street to Aurora Avenue (Hwy 99)
Turn left onto Aurora Avenue
At 160th turn right
Continue on 160th Street through one stop light (Dayton Avenue) to stop sign at Greenwood Avenue North
Turn right onto Greenwood Avenue North, then a quick angle to left onto Innis Arden Way
Entrance to campus about 50 feet on the right
From Bellevue/Kirkland (East)
Take either I-90 or Highway 520 across Lake Washington
Go North on I-5 to 145th Street (Take Exit 175)
Turn left over the freeway on 145th Street
Continue along 145th Street to Aurora Avenue (Hwy 99)
Turn right onto Aurora Avenue
Continue north Aurora Avenue to 160th Street
Turn left at 160th Street
Continue on 160th Street through one stop light (Dayton Avenue) to stop sign at Greenwood Avenue North
Turn right onto Greenwood Avenue North then a quick angle to left onto Innis Arden Way

Entrance to campus about 50 feet on the right
Planning your trip via public transportation?
Shoreline Community College is served directly by King County METRO Transit, with stops right at the front walk of the campus. This service runs throughout the day about every half hour. The routes serving the campus are: Route 330, Route 331, Route 345, Route 355 and Route 5.
To plan your trip, go to the METRO Transit web site. It's easy!