Veteran & Military Student Services
Welcome student veterans, military service members, & dependents!
Shoreline Community College has a nationally recognized Veteran and Military Student Services (VMSS) program. Our mission is to support you and help make your experience at Shoreline Community College a success.
Some of the services we offer include:
Connection with the campus V.E.T.S. Club
Access to on-site Vet Corps representative for assistance navigating the Shoreline system and off-campus resources
Referrals for disability resources, mental health & wellness counseling, and community resources
Academic Scholarships for Shoreline Student Veterans and Military Service Members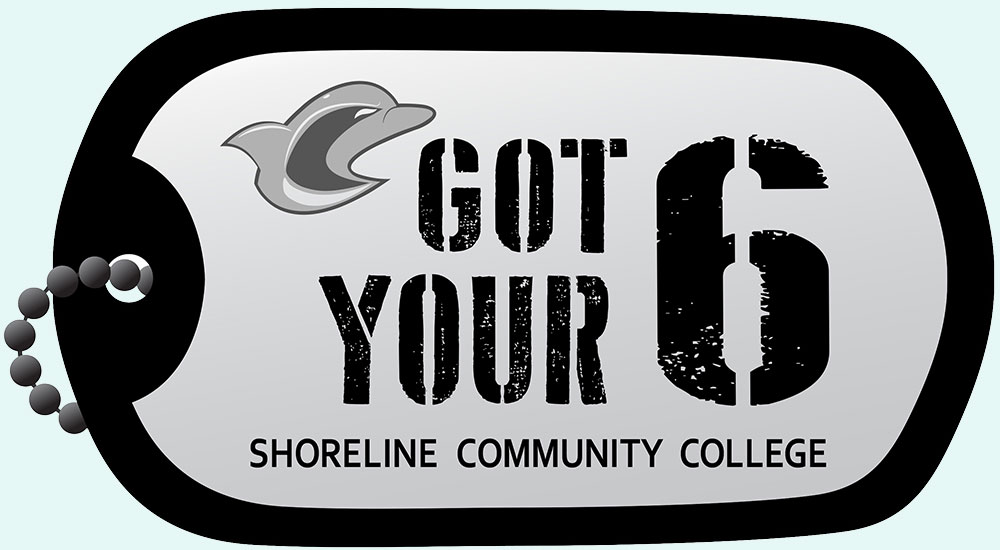 GOT YOUR 6
GOT YOUR 6 (GY6) is a campus wide initiative for faculty and staff that focuses on the challenges our student veterans face when transitioning from military to civilian life and how our campus community can support them.
For more information, please contact militaryservices@shoreline.edu
Get Started
If you are new to Shoreline, start by completing our Prospective Student Information Form and a VMSS staff member will contact you with more information.
If you have any questions or need assistance completing the form, contact militaryservices@shoreline.edu or visit us in FOSS (5000) Building, Room 5226.
Get Assistance
Current students can meet with VMSS staff members by scheduling an appointment online through Starfish.
For questions about GI Bill benefits and tuition waivers, please schedule an appointment with School Certifying Official, Joshua Salois.
For new students wishing to explore VA educational benefits or other resources for military-connected students, please contact or schedule an appointment with Program Specialist, Fernando Sanchez.
For questions about adding or dropping classes, creating or updating an education plan, transfer planning, or to check in about your degree progress, please schedule an appointment with Military Advisor, Rosemary Whiteside.
GI Bill® is a registered trademark of the U.S. Department of Veterans Affairs (VA). More information about education benefits offered by VA is available at the official U.S. government website at benefits.va.gov/gibill.
Contact Us
Veteran & Military Student Services (VMSS)
Location

FOSS (5000) Building, 5226

Email

Hours

Monday - Thursday
0800 - 1700
Friday
0800 - 1630