Student Voices: Vy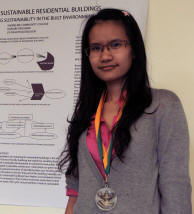 Vy Phan Thao Nguyen, Honors Program student (Architecture)
Vietnam
How did you choose Shoreline?
My parents set everything up before I left Vietnam, but the agency who helped them recommended a college that was very far from where I needed to live (with my relatives). So, I visited a few other colleges in the area and I just loved the scenery of Shoreline's campus. I love the campus and come here from 7 a.m. until very late in the day.
Did you ask about your major when you were looking at other colleges?
Not really. My major is architecture, but at community colleges there aren't really famous programs to look for because they provide a basic foundation for all majors. When I prepared for transferring to university, that's when I really asked about my major.
What is something you've learned here at Shoreline?
I learned to interact more actively with professors because in my home country we don't have that kind of classroom environment. I really love how I can interact with the professors at Shoreline.
What is something you like about Shoreline?
Shoreline has a strong focus on issues related to the environment, for example, it has the Zero Energy program; it has a group of professors focused on the topic of sustainability, and there are many lectures on this topic available to students. I think this is great because it also relates to my area of study (architecture).