Student Voices: Liberto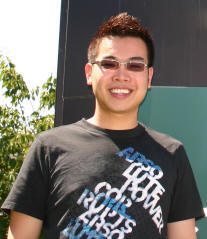 Liberto Julianto (Biochemistry, minor in Chemistry)
Surabaya, Indonesia
How did you hear about and choose Shoreline Community College?
It was kind of by chance. I always wanted to go study in the U.S., but I had no idea how or where to go. My friend's brother helped him select a college. Then when his I-20 came in the mail, I saw the envelope from Shoreline. I did some checking on the website and it looked good.
Are you glad you chose Shoreline?
Yes. I like the staff because they are always so nice. Applying for admission seemed so complicated, but they helped make the process easier. After I became a student, they always gave me the right amount of motivation. Not only did they give me lots of encouragement, but they also helped me make good decisions. Sometimes I wanted to take a short cut or an easy way, but they told me when that was a bad idea. I'm really glad I followed their advice because it helped me transfer to the University of Washington successfully!
What was the best thing about your experience at Shoreline Community College?
Being an IPM! (International Peer Mentor) This was so important for me, and I think for my fellow students who benefit from the IPMs. I was one of five IPMs whose job is to be a bridge. We connect international students with social & educational events, with each other, with the right campus resources where they could get the help and advice they need! Being an IPM really, really helped me become a better communicator and leader. Having good grades and my IPM experience made me very confident I would transfer to the UW easily, and I did!
How was studying at the University of Washington different from studying at Shoreline Community College?
It was much more competitive and I felt like an individual. At Shoreline I felt like a community member, like among fellow Indonesians and all international students. At Shoreline classes were much smaller and it was really easy to speak with my professors and get extra help or discussion. Because of that, I think Shoreline was the best place to really learn what we studied.
So do you believe Shoreline Community College prepared you well to continue your major studies at university?
Yes. For example, my major is Biochemistry. Our chemistry class at UW had about 300 students in it, but our lab section had about 40. Every time we did experiments or other lab work, the Teaching Assistant always used the same 3 students as examples for the others. The Teaching Assistant said their work was done exactly the way it should be. I was one of those students and the other two were also transfer students from Shoreline!