Baseball Assistant Coaches
Associate Head Coach Dru Snell
Snell begins his second season with the Shoreline coaching staff. Snell came to SCC from Shorewood High School where he had served as the Hitting Coach since 2008. During his time at Shorewood, Snell led the Thunderbirds to two WIAA State Tournaments where they took second and fourth place respectively.
Snell has also spent the last 8 years coaching with Seattle Select, an elite youth baseball program. Snell coached teams to third and ninth place finishes in the 104-team Cooperstown Tournament as well as a third place finish in the Caba World Series.
Assistant Coach Christian Heideger
Christian Heideger joins us for his first year with the Dolphins, coaching the catchers, working as an assistant hitting coach, and defensive strategies. Before coming to Shoreline, Heideger graduated from Concordia University in Portland, OR in 2017 with a major in business administration and a minor in psychology. Playing 3 years for the Cavaliers. Heideger attended the University of Redlands as a freshman, hitting .373 in 20 games. Coach Heideger was the head coach of the Fort Collins Foxes in Colorado in summer of 2017, leading them to a 19-9 record.
Coach Heideger played for the Windsor Beavers in 2014 where he set the franchise homerun record with 6 homeruns. He also played for the Foxes in the 2015-2016 summers, winning the 2016 gold glove award and battery mate to some of the more successful pitchers to play for the Foxes.
We are excited to have Christian Heideger brining his vast experience to the Phins!
Associate Head Coach
Dru Snell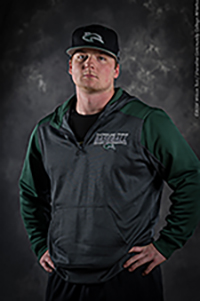 Assistant Coach
Christian Heideger