Intramurals & Wellness
Gym closed but free remote wellness classes available
The gym and fitness center are closed until further notice.
Free intramural and wellness classes are available remotely via Zoom. Check out the class options below for hours and access instructions.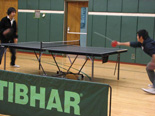 Gym Hours
Please present ID card or ID number for Gym & Fitness Center access
Fitness Center
Temporarily Closed
Main Gym
Temporarily Closed
Please Note: The Main Gym is only available during times when camps are not in session. Please see door schedule for more information.
Intramural & Wellness Activities
Free online intramural and wellness classes are available via Zoom. Join your fellow students, staff, and faculty in the pursuit of a fit and healthy lifestyle while staying remote! Check out the class options below for hours and access instructions: