Welcome to the Parent-Child Center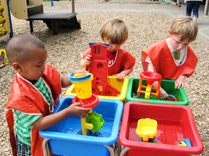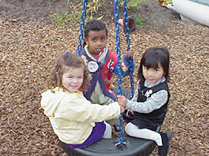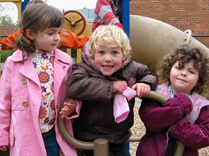 The Parent-Child Center is a childcare facility and instructional lab located on the beautiful Shoreline Community College campus. Our facility has five classrooms and a large outdoor play area. Children's classroom experiences are enriched by access to the college and its activities. Our primary purpose is to provide high quality care for the children of students, state employees, and community members. We are licensed by the State of Washington to serve 76 children.
Program Goals/Philosophy
Our primary goal is to facilitate the growth of strong, nurturing families and healthy, thriving children. We believe children are motivated to learn, and parents and teachers can work together to facilitate this process. We support parents by offering Parent Education classes and incorporating parents into classroom activities. We create an environment where parents and children feel safe, nurtured, and respected.
The Center also serves as an instructional laboratory where community college students can complete observations and internships.
Ages Served
We serve children ages 6 weeks through 5 years, or until they enter kindergarten. We are currently not licensed to take school-aged children.
Meals
The PCC is committed to providing healthy meals and snacks to children. We serve as many fresh foods as we can and limit foods with preservatives and added sugar. We do not serve any red meat or pork. The PCC does not charge a separate fee for meals. We receive a partial reimbursement for meals served from the Child and Adult Care Food Program (CACFP), based on the number of low-income children served. We serve breakfast, lunch and two snacks daily. Sample Menu
Contact Us
Shoreline Community College
1900 Building
16101 Greenwood Ave. N
Shoreline, WA 98133
Hours
Mon - Fri
7 a.m. - 6 p.m.
Social
Closures
We are closed each year for ten state holidays (New Years Day, Martin Luther King, Jr. Day, Presidents' Day, Memorial Day, Independence Day, Labor Day, Veterans Day, Thanksgiving Day, the Friday after Thanksgiving, and Christmas Day), for four days during Winter Break when the Shoreline Community College campus is closed, and for five teacher training/prep days at the end of the summer. In addition, the Center is closed for two parent-teacher conference days per year, and closes at 2:30 pm on eight Fridays per year for staff meetings. View the Calendar
Non-discrimination Policy
It is the policy of this child care center that no person shall be subjected to discrimination because of race, color, national origin, sex, sexual orientation, age, religion, creed, marital status, disabled or Vietnam era veteran status, or the presence of any physical, mental, or sensory handicap.