May 15-24, 2015

Meet the Cast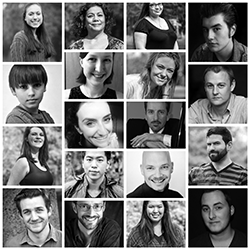 See our rehearsals and production on Instagram!
#BigFishtheMusical #ShorelineCommunityCollege

A photo posted by Theater Program at Shoreline (@shorelinetheater) on
Northwest premier of the Broadway hit
One of Shoreline's largest productions yet!
The musical tells the story of Edward Bloom – a traveling salesman who lives life to the fullest – and his bigger-than-life tales that delight everyone, except his only son, Will. About to have a child of his own, Will is determined to discover the real truth behind his father's tall tales.
Music and lyrics are by Andrew Lippa (Wild Party, The Addams Family); the book is by John August (Big Fish the Movie, Charlie and the Chocolate Factory). Big Fish is overflowing with passion, humor, and dazzling special effects and reminds us why we love going to the theater: for an experience that is richer, funnier and BIGGER than life itself.
Big Fish is based on the popular novel by Daniel Wallace and the Columbia Pictures film directed by Tim Burton.
Produced by Charles Enlow
Choreography by LeeAnn Hittenberger
Stage direction by Teresa Thuman
Enter the Sound Garden: clips of the original soundtrack
Red, white and true.
Time stops.
Be the hero.