Main Stage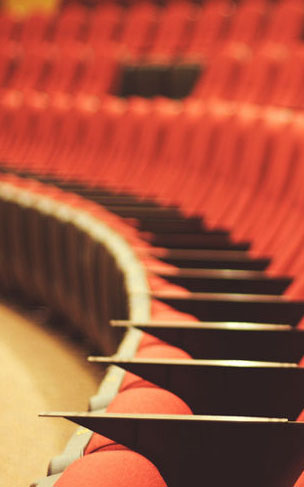 359 seat capacity.
Spacious seating with plenty of leg room.
Large stage area. 37' width, wall to wall. 27' teaser opening.
20' from front middle stage (orchestra pit) to Grand drape.
Full orchestra pit available with up to accomodations for 25+ musicians.
4K Digital video projection system by Barco. (DP4K-23B) 3D, and HFR capable. (4,096 X 2,160 pixels native resolution) Brtightest cinema projector in its class.
Multiple projector connection capabilities to include: DisplayPort, 3G-SDI inputs, HMDI 1.4a, AES/EBU audio channels, 8x GPI, 8x GPO (4x RJ45), ETH for content connectivity & ingest, front-accessible USB 3.0, front-accessible USB 2.0, DCI 4K 2D, DCI 4K 3D, DCI High Frame Rates 2K 3D up to 120fps, Mpeg-2, JPEG 2000
3 projection screen options.
State of the art 7.1 Digital Surround sound amplifications system with Yamaha CL5 mixing console.
Laptop projector inputs on stage and at mix console. Also available from projection booth.
36 input stage box.
36 input box at mix console.
Immediate ability for 8 seperate stage mixes with ability to arrange for additional mixes.
Extensive on-board audio effects. 7.1 Matrix mix ready.
Denon Blu-Ray player in main auditorium. High-end Oppo Blu-ray player from projection booth.
Large assortment of vocal and instrumental microphones and stands.
2 variations for available podiums.
Wi-fi and wired ethernet connections available.
Theatrical lighting avaialble.
Brand new cyclorama.