Auditions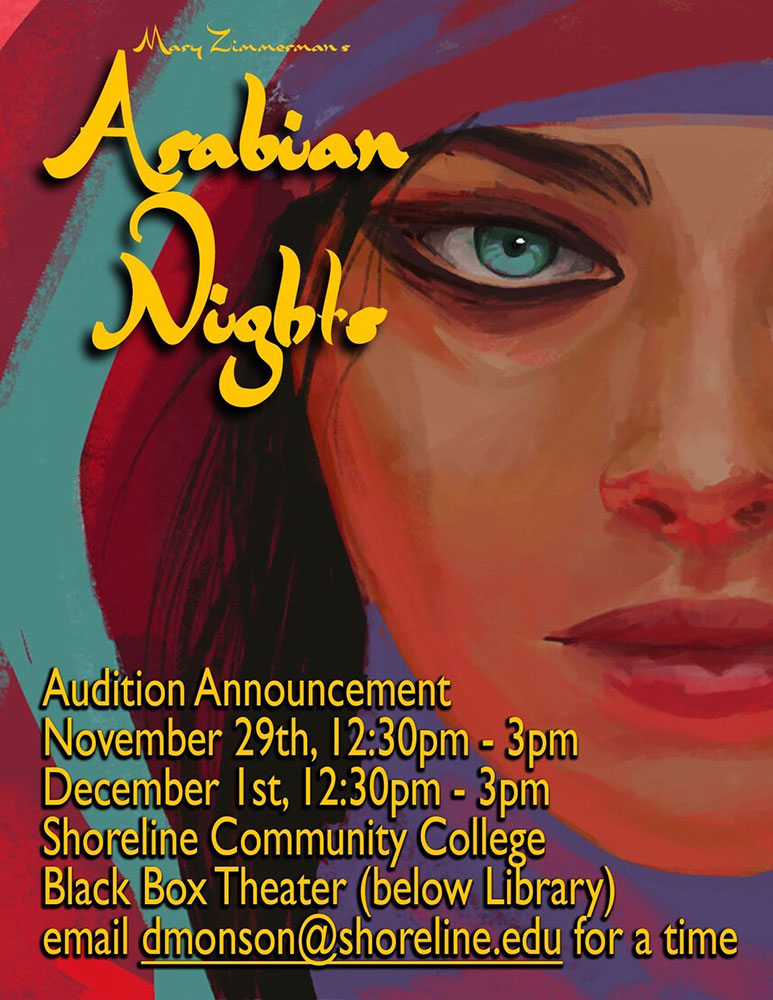 "The Arabian Nights"
Directed by Duygu Monson
Synopsis
The Arabian Nights by Mary Zimmerman
A twelve-member cast enacts Scheherazade's tales of love, lust, comedy, and dreams. Scheherazade's cliffhanger stories prevent her husband, the cruel ruler Shahryar, from murdering her, and after 1,001 nights, Shahryar is cured of his madness, and Scheherazade returns to her family. This adaptation offers a wonderful blend of the lesser-known tales from Arabian Nights with the recurring theme of how the magic of storytelling holds the power to change people. The final scene brings the audience back to a modern day Baghdad with the wail of air raid sirens threatening the rich culture and history that are embodied by these tales.
Performance Dates & Times
March 3, 4, 5, 10, 11, 12
Fridays & Saturdays at 7:30pm, Sundays at 3:00pm
Auditions
Tuesday, November 29th, 12:30pm - 3pm
Thursday, December 1st, 12:30pm - 3pm
We request that you prepare a SHORT monologue (1 to 2 minutes) (NOT to exceed a 3 minute audition)
Auditions will take place in the Shoreline Community College Black Box Theater, 4000 Building lower level at end of hall, 16101 Greenwood Avenue North, Shoreline, WA 98133
No callbacks will be held.
Audition Sign Up
To sign up for an audition, email Duygu Monson at dmonson@shoreline.edu to reserve an audition time. If you are not available either of the audition days, email the above address and we can arrange for a Zoom audition.
Character List
Characters to be cast cis gender, cross gender and gender neutral