Connecting to Wi-Fi
Q. Who can use wireless service at Shoreline?
All current students with a Shoreline student email account and staff have access to the campus wireless network. Staff use their email username and password to connect.
Q. I am a new student. What am I supposed to do?
If you are a new student and have not set your password, you must activate your account.
Q. How do I connect to the wireless network?
Windows & Android Phone Setup
Locate and click the Wi-Fi icon at the bottom right part of your computer screen. For a cell phone, please locate Wi-Fi in your phones settings
Connect to "SCC Student Wi-Fi" and, when prompted, type your username (the part before @go.shoreline.edu) and password
If you do not remember your password, go to Student Email Accounts and click on "Reset my Password"
Select your WIRELESS network settings such as "SCC Student Wi-Fi" or "SCC Staff Wi-Fi"
Type your Shoreline email username and password
Click connect or join
If you are required, please fill out the "Join Wi-Fi network" form as follows: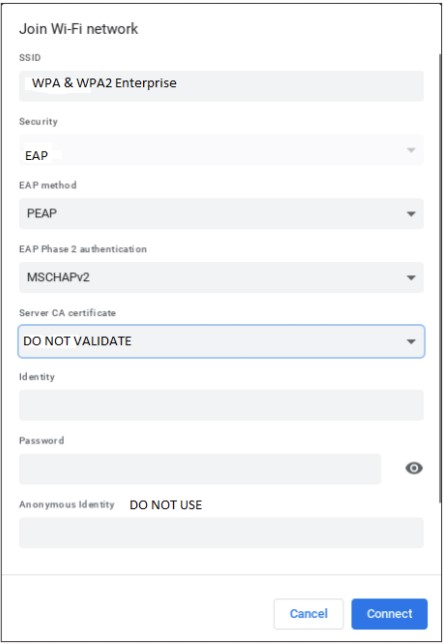 Mac Setup
Choose "SCC Student Wi-Fi" or "SCC Staff"

Type your username (firstname.lastname) and password

iPhone and iPad Setup
Select "SCC Student Wi-Fi" or "SCC Staff"
Type your username (firstname.lastname)
Type your email password
Chromebook
Click on the Quick Settings Panel at the bottom right of the screen

Click on "No-Network"

Select your Wi-Fi Network (SCC Student or SCC Staff)

Enter your username (shoreline email address) and password
Questions?
Visit our Technical Support Center where you can find the answers to your questions or submit a request for additional assistance.