Languages & Communication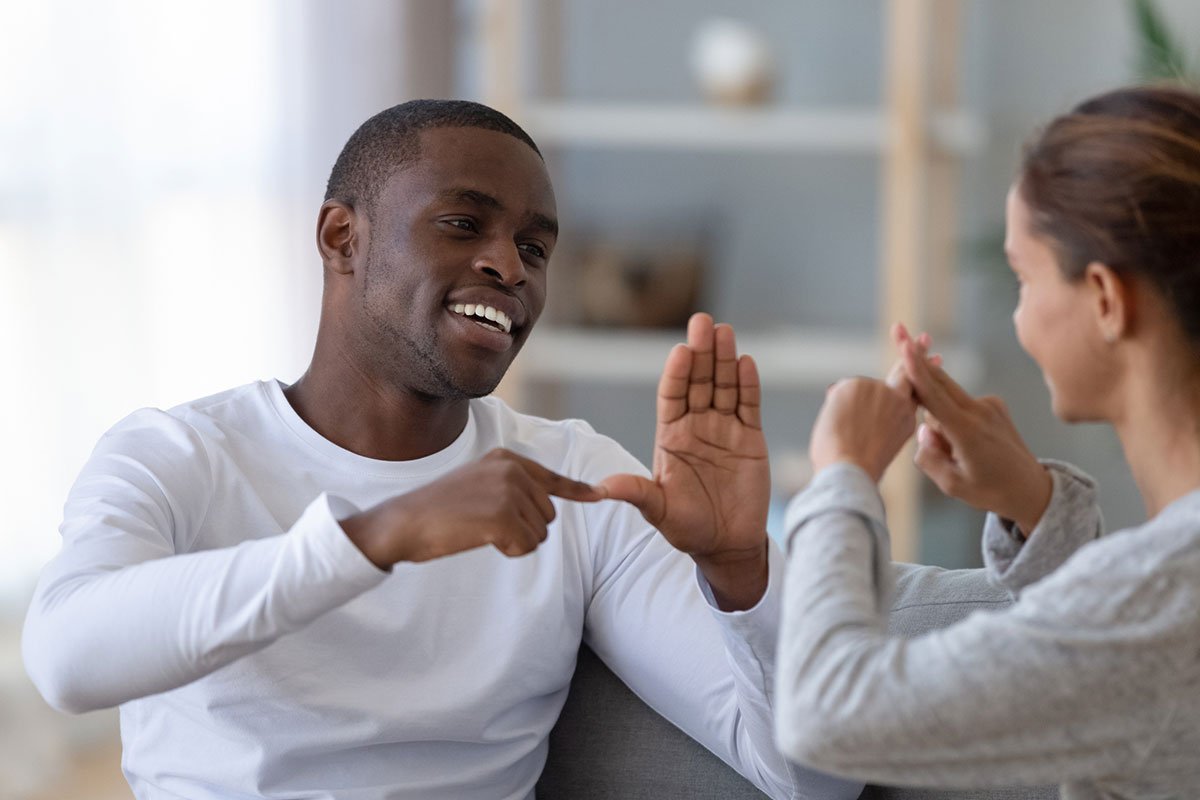 Focus on the ability to communicate with others in a variety of settings. Interpersonal communications and how people interact with each other are critically important in today's world. If you enjoy writing, speaking, listening, and being creative, or like to inform, languages and communication may be the pathway for you.
Languages and communication are cornerstones of human existence. Create your future in this dynamic field with a wide range of career opportunities such as:
Communications specialist
Copywriter
Editor
Journalist
Linguist
Novelist
Choose from a short-term certificate, two-year degree, or transfer degree. Whatever your goal, Shoreline has the pathway for you.
Looking for something else?
| Program Option | Program Type | Completion Award | Program Parent | Area of Study | Program Format | Department Name | Search Option |
| --- | --- | --- | --- | --- | --- | --- | --- |
| Accounting | Prof / Tech Degree | Associate of Applied Arts and Sciences | Accounting | Business and Management | Online, On Campus | | Accounting AAAS Accounting |
| Accounting | Certificate | Certificate of Proficiency | Accounting | Business and Management | Online, On Campus | | Accounting Certificate Accounting |
| Accounting Clerk | Certificate | Certificate of Completion | Accounting | Business and Management | Online, On Campus | | Accounting Clerk Certificate Accounting |
| Accounts Receivable Clerk | Certificate | Certificate of Completion | Accounting | Business and Management | Online, On Campus | | Accounts Receivable Clerk Certificate Accounting |
| Acting for Stage and Camera | Certificate | Certificate of Proficiency | Performance Arts And Digital Filmmaking | Visual and Performing Arts | On Campus | | Acting for Stage and Camera Certificate Performance Arts And Digital Filmmaking |
| Aeronautical, Civil, Industrial, Manufacturing, Materials Science, Mechanical Engineering, Plastics and Composites Pre-Major | Transfer | Associate of Science - Transfer, Track 2/Major Related Program | Physical Sciences Transfer | Science - Technology - Engineering - Math | On Campus | | Aeronautical, Civil, Industrial, Manufacturing, Materials Science, Mechanical Engineering, Plastics and Composites Pre-Major Physical Sciences Transfer |
| American Ethnic Studies Pre-Major | Transfer | Associate of Arts - Direct Transfer Agreement | General Transfer | Social Sciences and Public Service | On Campus | | American Ethnic Studies Pre-Major General Transfer |
| Animation/Video for Multimedia | Prof / Tech Degree | Associate of Applied Arts and Sciences | Visual Communications Technology | Visual and Performing Arts | On Campus | | Animation/Video for Multimedia AAAS Visual Communications Technology |
| Anthropology Pre-Major | Transfer | Associate of Arts - Direct Transfer Agreement | General Transfer | Social Sciences and Public Service | On Campus | | Anthropology Pre-Major General Transfer |
| Art History Pre-Major | Transfer | Associate of Arts - Direct Transfer Agreement | General Transfer | Visual and Performing Arts | On Campus | | Art History Pre-Major General Transfer |
| Art and Design Foundation | Certificate | Certificate of Completion | Visual Communications Technology | Visual and Performing Arts | On Campus | | Art and Design Foundation Certificate Visual Communications Technology |
| Asian Studies Pre-Major | Transfer | Associate of Arts - Direct Transfer Agreement | General Transfer | Social Sciences and Public Service | On Campus | | Asian Studies Pre-Major General Transfer |
| Audio Engineering Production | Prof / Tech Degree | Associate of Applied Arts and Sciences | Music Technology | Visual and Performing Arts | On Campus | | Audio Engineering Production AAAS Music Technology |
| Automotive General Service Technician | Certificate | Certificate of Proficiency | Automotive | Industrial Technology | On Campus | | Automotive General Service Technician (GST) Certificate Automotive |
| Automotive Service Technician | Prof / Tech Degree | Associate of Applied Arts and Sciences | Automotive | Industrial Technology | On Campus | | Automotive Service Technician AAAS Automotive |
| Automotive Technician: Honda Professional Automotive Career Training (PACT) | Prof / Tech Degree | Associate of Applied Arts and Sciences | Automotive | Industrial Technology | On Campus | | Honda Professional Automotive Career Training (PACT) AAAS Automotive |
| Automotive Technician: Mopar College Automotive Program (MoparCAP) | Prof / Tech Degree | Associate of Applied Arts and Sciences | Automotive | Industrial Technology | On Campus | | Mopar College Automotive Program (MoparCAP) AAAS Automotive |
| Automotive Technician: Toyota Technician Training and Education Network (T-TEN) | Prof / Tech Degree | Associate of Applied Arts and Sciences | Automotive | Industrial Technology | On Campus | | Toyota Technician Training and Education Network (T-TEN) AAAS Automotive |
| Basic Manufacturing | Certificate | Certificate of Completion | Manufacturing | Industrial Technology | On Campus | | Basic Manufacturing Certificate Manufacturing |
| Bioengineering and Chemical Engineering Pre-Major | Transfer | Associate of Science - Transfer, Track 2/Major Related Program | Physical Sciences Transfer | Science - Technology - Engineering - Math | On Campus | | Bioengineering and Chemical Engineering Pre-Major Physical Sciences Transfer |
| Biological Sciences Pre-Major | Transfer | Associate of Science - Transfer, Track 1 | Natural Sciences Transfer | Science - Technology - Engineering - Math | On Campus | | Biological Sciences Pre-Major Natural Sciences Transfer |
| Biotechnology Lab Specialist | Certificate | Certificate of Completion | Biotechnology | Science - Technology - Engineering - Math | On Campus | | Biotechnology Lab Specialist Certificate Biotechnology |
| Biotechnology Lab Specialist | Prof / Tech Degree | Associate of Applied Arts and Sciences | Biotechnology | | On Campus | | Biotechnology Lab Specialist AAAS Biotechnology |
| Business | Prof / Tech Degree | Associate of Applied Arts and Sciences | Business Administration | Business and Management | Online, On Campus | | Business AAAS Business Administration |
| Business Intelligence and Data Analytics | Prof / Tech Degree | Associate of Applied Arts and Sciences | Business Intelligence and Data Analytics | Business and Management | Online, On Campus | | Business Intelligence and Data Analytics AAAS Business Intelligence and Data Analytics |
| Business Pre-Major | Transfer | Associate of Arts - Direct Transfer Agreement/Major Related Program | General Transfer | Business and Management | Online, On Campus | | Business Pre-Major General Transfer |
| Chemistry/Biochemistry Pre-Major | Transfer | Associate of Science - Transfer, Track 1 | Natural Sciences Transfer | Science - Technology - Engineering - Math | On Campus | | Chemistry/Biochemistry Pre-Major Natural Sciences Transfer |
| Child Advocacy Studies | Certificate | Certificate of Completion | Early Childhood Education | Social Sciences and Public Service | Online, On Campus | | Child Advocacy Studies Certificate Early Childhood Education |
| Cinema, Film & Media Studies Pre-Major | Transfer | Associate of Arts - Direct Transfer Agreement | General Transfer | Visual and Performing Arts | On Campus | | Cinema, Film & Media Studies Pre-Major General Transfer |
| Classical Piano | Prof / Tech Degree | Associate in Music | Music | Visual and Performing Arts | On Campus | | Classical Piano AM Music |
| Classical Voice | Prof / Tech Degree | Associate in Music | Music | Visual and Performing Arts | On Campus | | Classical Voice AM Music |
| Clean Energy Technology & Entrepreneurship | Certificate | Certificate of Proficiency | Clean Energy Technology | Industrial Technology | On Campus | | Clean Energy Technology & Entrepreneurship Certificate Clean Energy Technology |
| Clean Energy Technology & Entrepreneurship | Prof / Tech Degree | Associate of Applied Arts and Sciences | Clean Energy Technology | Industrial Technology | On Campus | | Clean Energy Technology and Entrepreneurship AAAS Clean Energy Technology |
| Communication Studies Pre-Major | Transfer | Associate of Arts - Direct Transfer Agreement | General Transfer | Languages and Communication | On Campus | | Communication Studies Pre-Major General Transfer |
| Comprehensive Coding & Revenue Integrity Specialist | Certificate | Certificate of Proficiency | Health Informatics and Information Management | Healthcare and Wellness | Online | | Comprehensive Coding & Revenue Integrity Specialist Health Informatics and Information Management |
| Computer Graphics Foundation | Certificate | Certificate of Completion | Visual Communications Technology | Visual and Performing Arts | On Campus | | Computer Graphics Foundation Certificate Visual Communications Technology |
| Computer Science & Software Systems Pre-Major | Transfer | Associate of Arts - Direct Transfer Agreement | General Transfer | Science - Technology - Engineering - Math | On Campus | | Computer Science & Software Systems Pre-Major General Transfer |
| Computer Science Pre-Major | Transfer | Associate of Arts - Direct Transfer Agreement/Major Related Program | General Transfer | | Online, On Campus | | Computer Science Pre-Major General Transfer |
| Computer and Electrical Engineering Pre-Major | Transfer | Associate of Science - Transfer, Track 2/Major Related Program | Physical Sciences Transfer | Science - Technology - Engineering - Math | On Campus | | Computer & Electrical Engineering Pre-Major Physical Sciences Transfer |
| Construction Management Pre-Major | Transfer | Associate of Arts - Direct Transfer Agreement/Major Related Program | General Transfer | Business and Management | On Campus | | Construction Management Pre-Major General Transfer |
| Creative Project Management | Prof / Tech Degree | Associate of Applied Arts and Sciences | Visual Communications Technology | Visual and Performing Arts | On Campus | | Creative Project Management AAAS Visual Communications Technology |
| Creative Writing Pre-Major | Transfer | Associate of Arts - Direct Transfer Agreement | General Transfer | Languages and Communication | On Campus | | Creative Writing Pre-Major General Transfer |
| Criminal Justice | Prof / Tech Degree | Associate of Applied Arts and Sciences | Criminal Justice | Social Sciences and Public Service | Online, On Campus | | Criminal Justice AAAS Criminal Justice |
| Criminal Justice Advocacy Certificate | Certificate | Certificate of Completion | Criminal Justice | Social Sciences and Public Service | Online | | Criminal Justice Advocacy Certificate Criminal Justice |
| Criminal Justice Pre-Major | Transfer | Associate of Arts - Direct Transfer Agreement | General Transfer | Social Sciences and Public Service | On Campus | | Criminal Justice Pre-Major General Transfer |
| Dental Hygiene | Prof / Tech Degree | Associate of Applied Arts and Sciences | Dental Hygiene | Healthcare and Wellness | On Campus | | Dental Hygiene AAAS Dental Hygiene |
| Digital Film Production | Prof / Tech Degree | Associate of Applied Arts and Sciences | Performance Arts And Digital Filmmaking | Visual and Performing Arts | On Campus | | Digital Film Production AAAS Performance Arts And Digital Filmmaking |
| Digital Illustration/Animation | Certificate | Certificate of Completion | Visual Communications Technology | Visual and Performing Arts | On Campus | | Digital Illustration/Animation Certificate Visual Communications Technology |
| Digital Photography | Certificate | Certificate of Completion | Visual Communications Technology | Visual and Performing Arts | On Campus | | Digital Photography Certificate Visual Communications Technology |
| Digital Video | Certificate | Certificate of Completion | Visual Communications Technology | Visual and Performing Arts | On Campus | | Digital Video Certificate Visual Communications Technology |
| Drama & Theater Arts Pre-Major | Transfer | Associate of Arts - Direct Transfer Agreement | General Transfer | Visual and Performing Arts | On Campus | | Drama & Theater Arts Pre-Major General Transfer |
| Early Childhood Education | Prof / Tech Degree | Associate of Applied Arts and Sciences | Early Childhood Education | Social Sciences and Public Service | On Campus | | Early Childhood Educator/Paraeducator AAAS Early Childhood Education |
| Economics Pre-Major | Transfer | Associate of Arts - Direct Transfer Agreement | General Transfer | Business and Management | On Campus | | Economics Pre-Major General Transfer |
| Electric Vehicle Technician (Tesla) | Prof / Tech Degree | Certificate of Completion | Automotive | Industrial Technology | On Campus | | Electric Vehicle Technician (Tesla) Certificate Automotive |
| Electronic Music Production | Prof / Tech Degree | Associate of Applied Arts and Sciences | Music Technology | Visual and Performing Arts | On Campus | | Electronic Music Production AAAS Music Technology |
| Elementary Education Pre-Major | Transfer | Associate of Arts - Direct Transfer Agreement | General Transfer | Social Sciences and Public Service | On Campus | | Elementary Education Pre-Major General Transfer |
| Engineering Pre-Major | Transfer | Associate of Science - Transfer, Track 2 | Physical Sciences Transfer | Science - Technology - Engineering - Math | On Campus | | Engineering Pre-Major Physical Sciences Transfer |
| Entrepreneurship | Certificate | Certificate of Proficiency | Business Administration | Business and Management | On Campus | | Entrepreneurship Certificate Business Administration |
| Entrepreneurship | Prof / Tech Degree | Associate of Applied Arts and Sciences | Business Administration | Business and Management | On Campus | | Entrepreneurship AAAS Business Administration |
| Entrepreneurship (30 credits) | Certificate | Certificate of Completion | Business Administration | Business and Management | On Campus | | Entrepreneurship Certificate (30 credits) Business Administration |
| Environmental Health Pre-Major | Transfer | Associate of Science - Transfer, Track 1 | Natural Sciences Transfer | Science - Technology - Engineering - Math | On Campus | | Environmental Health Pre-Major Natural Sciences Transfer |
| Environmental Sciences Pre-Major | Transfer | Associate of Science - Transfer, Track 1 | Natural Sciences Transfer | Science - Technology - Engineering - Math | On Campus | | Environmental Sciences Pre-Major Natural Sciences Transfer |
| Environmental Studies Pre-Major | Transfer | Associate of Arts - Direct Transfer Agreement | General Transfer | Science - Technology - Engineering - Math | On Campus | | Environmental Studies Pre-Major General Transfer |
| Essentials of Biomanufacturing Certificate | Certificate | Certificate of Completion | Biotechnology | Healthcare and Wellness | Online, On Campus | | Essentials of Biomanufacturing Certificate Biotechnology |
| Exercise Science & Kinesiology Pre-Major | Transfer | Associate of Arts - Direct Transfer Agreement | General Transfer | Healthcare and Wellness | On Campus | | Exercise Science & Kinesiology Pre-Major General Transfer |
| Foundation Studio Art AFA | Transfer | Associate in Fine Arts | Fine Arts | Visual and Performing Arts | On Campus | | Foundation Studio Art AFA Fine Arts |
| Foundations of Digital Audio - Pro Tools | Certificate | Certificate of Completion | Music Technology | Visual and Performing Arts | On Campus | | Foundations of Digital Audio - Pro Tools Certificate Music Technology |
| Foundations of Electronic Music | Certificate | Certificate of Completion | Music Technology | Visual and Performing Arts | Online, On Campus | | Foundations of Electronic Music Certificate Music Technology |
| Foundations of Multi-Track Recording | Certificate | Certificate of Completion | Music Technology | Visual and Performing Arts | On Campus | | Foundations of Multi-Track Recording Certificate Music Technology |
| Foundations of Music Business | Certificate | Certificate of Completion | Music Technology | Visual and Performing Arts | On Campus | | Foundations of Music Business Certificate Music Technology |
| Game Art & Design | Prof / Tech Degree | Associate of Applied Arts and Sciences | Visual Communications Technology | Visual and Performing Arts | On Campus | | Game Art and Design AAAS Visual Communications Technology |
| Gender & Women's Studies Pre-Major | Transfer | Associate of Arts - Direct Transfer Agreement | General Transfer | Social Sciences and Public Service | On Campus | | Gender & Women's Studies Pre-Major General Transfer |
| General Business Administration | Certificate | Certificate of Proficiency | Business Administration | Business and Management | On Campus | | General Business Administration Certificate Business Administration |
| General Business Administration | Certificate | Certificate of Completion | Business Administration | Business and Management | On Campus | | General Business Administration Certificate Business Administration |
| General Business Administration | Prof / Tech Degree | Associate of Applied Arts and Sciences | Business Administration | Business and Management | On Campus | | General Business Administration AAAS Business Administration |
| General Motors Automotive Service Educational Program (ASEP) | Prof / Tech Degree | Associate of Applied Arts and Sciences | Automotive | Industrial Technology | On Campus | | General Motors Automotive Service Educational Program (ASEP) AAAS Automotive |
| Geography Pre-Major | Transfer | Associate of Arts - Direct Transfer Agreement | General Transfer | Social Sciences and Public Service | On Campus | | Geography Pre-Major General Transfer |
| Geology & Earth Sciences Pre-Major | Transfer | Associate of Science - Transfer, Track 1 | Natural Sciences Transfer | Science - Technology - Engineering - Math | On Campus | | Geology & Earth Sciences Pre-Major Natural Sciences Transfer |
| Graphic Design | Prof / Tech Degree | Associate of Applied Arts and Sciences | Visual Communications Technology | Visual and Performing Arts | On Campus | | Graphic Design AAAS Visual Communications Technology |
| Health Data Analyst Certificate | Certificate | Certificate of Completion | Health Informatics and Information Management | Healthcare and Wellness | Online | | Health Data Analyst Certificate Health Informatics and Information Management |
| Health Informatics & Information Management Pre-Major | Transfer | Associate of Arts - Direct Transfer Agreement | General Transfer | Healthcare and Wellness | On Campus | | Health Informatics & Information Management Pre-Major General Transfer |
| Health Information Foundations | Certificate | Certificate of Completion | Health Informatics and Information Management | Healthcare and Wellness | Online | | Health Information Foundations Certificate Health Informatics and Information Management |
| Health Information Technology | Prof / Tech Degree | Associate of Applied Arts and Sciences | Health Informatics and Information Management | Healthcare and Wellness | Online | | Health Information Technology AAAS Health Informatics and Information Management |
| History Pre-Major | Transfer | Associate of Arts - Direct Transfer Agreement | General Transfer | Social Sciences and Public Service | On Campus | | History Pre-Major General Transfer |
| Humanities Pre-Major | Transfer | Associate of Arts - Direct Transfer Agreement | General Transfer | Visual and Performing Arts | On Campus | | Humanities Pre-Major General Transfer |
| Informatics Pre-Major | Transfer | Associate of Arts - Direct Transfer Agreement | General Transfer | Social Sciences and Public Service | On Campus | | Informatics Pre-Major General Transfer |
| Instrumental Music | Prof / Tech Degree | Associate in Music | Music | Visual and Performing Arts | On Campus | | Instrumental Music AM Music |
| International Trade | Certificate | Certificate of Completion | Business Administration | Business and Management | On Campus | | International Trade Certificate Business Administration |
| International/Global Studies Pre-Major | Transfer | Associate of Arts - Direct Transfer Agreement | General Transfer | Social Sciences and Public Service | On Campus | | International/Global Studies Pre-Major General Transfer |
| Journalism Pre-Major | Transfer | Associate of Arts - Direct Transfer Agreement | General Transfer | Languages and Communication | On Campus | | Journalism Pre-Major General Transfer |
| Language & Literature Pre-Major | Transfer | Associate of Arts - Direct Transfer Agreement | General Transfer | Languages and Communication | On Campus | | Language & Literature Pre-Major General Transfer |
| Logic: Digital Audio | Certificate | Certificate of Completion | Music Technology | Visual and Performing Arts | On Campus | | Logic: Digital Audio Certificate Music Technology |
| Machine Maintenance | Certificate | Certificate of Completion | Manufacturing | Industrial Technology | On Campus | | Machine Maintenance Certificate Manufacturing |
| Manufacturing/Machinist Technology | Prof / Tech Degree | Associate of Applied Arts and Sciences | Manufacturing | Industrial Technology | On Campus | | Manufacturing/Machinist Technology AAAS Manufacturing |
| Manufacturing/Machinist Technology | Certificate | Certificate of Proficiency | Manufacturing | Industrial Technology | On Campus | | Manufacturing/Machinist Technology Certificate Manufacturing |
| Marketing | Certificate | Certificate of Completion | Business Administration | Business and Management | On Campus | | Marketing Certificate Business Administration |
| Marketing | Certificate | Certificate of Proficiency | Business Administration | Business and Management | On Campus | | Marketing Certificate Business Administration |
| Marketing | Prof / Tech Degree | Associate of Applied Arts and Sciences | Business Administration | Business and Management | On Campus | | Marketing AAAS Business Administration |
| Mathematics/Applied Math/Statistics Pre-Major | Transfer | Associate of Arts - Direct Transfer Agreement | General Transfer | Science - Technology - Engineering - Math | On Campus | | Mathematics/Applied Math/Statistics Pre-Major General Transfer |
| Mechatronics | Prof / Tech Degree | Associate of Applied Arts and Sciences | Manufacturing | Industrial Technology | On Campus | | Mechatronics AAAS Manufacturing |
| Mechatronics | Certificate | Certificate of Proficiency | Manufacturing | Industrial Technology | On Campus | | Mechatronics Certificate Manufacturing |
| Medical Laboratory Science Pre-Major | Transfer | Associate of Science - Transfer, Track 1 | Natural Sciences Transfer | Healthcare and Wellness | On Campus | | Medical Laboratory Science Pre-Major Natural Sciences Transfer |
| Medical Laboratory Technology | Prof / Tech Degree | Associate of Applied Arts and Sciences | Medical Laboratory Technology | Healthcare and Wellness | On Campus | | Medical Laboratory Technology AAAS Medical Laboratory Technology |
| Medical Laboratory Technology Certificate of Proficiency | Certificate | Certificate of Proficiency | Medical Laboratory Technology | Healthcare and Wellness | On Campus | | Medical Laboratory Technology Certificate Medical Laboratory Technology |
| Microsoft Software Applications | Certificate | Certificate of Completion | Business Technology | Business and Management | Online, On Campus | | Microsoft Software Applications Certificate Business Technology |
| Multicultural Studies Pre-major | Transfer | Associate of Arts - Direct Transfer Agreement | General Transfer | Social Sciences and Public Service | On Campus | | Multicultural Studies Pre-major General Transfer |
| Music Business | Prof / Tech Degree | Associate of Applied Arts and Sciences | Music Technology | Visual and Performing Arts | On Campus | | Music Business AAAS Music Technology |
| Music Performance | Prof / Tech Degree | Associate of Applied Arts and Sciences | Music | Visual and Performing Arts | On Campus | | Music Performance AAAS Music |
| Music Pre-Major | Transfer | Associate of Arts - Direct Transfer Agreement | General Transfer | Visual and Performing Arts | On Campus | | Music Pre-Major General Transfer |
| Nursing (RN) - 10 Quarter Option | Prof / Tech Degree | Associate of Applied Sciences - Transfer | Nursing | Healthcare and Wellness | On Campus | | Nursing (RN) - 10-Quarter AAS-T Nursing |
| Nursing (RN) - 6 Quarter Option | Prof / Tech Degree | Associate of Applied Sciences - Transfer | Nursing | Healthcare and Wellness | On Campus | | Nursing (RN) - 6-Quarter AAS-T Nursing |
| Nursing - LPN to RN Advanced Placement Option AAS-T | Prof / Tech Degree | Associate of Applied Sciences - Transfer | Nursing | Healthcare and Wellness | On Campus | | Nursing - LPN to RN Advanced Placement Option AAS-T Nursing |
| Nursing Assistant Certified | Certificate | Certificate of Completion | Nursing Assistant Certified | Healthcare and Wellness | On Campus | | Nursing Assistant Certified Certificate Nursing Assistant Certified |
| Nutrition And Food Science Pre-Major | Transfer | Associate of Arts - Direct Transfer Agreement | General Transfer | Healthcare and Wellness | On Campus | | Nutrition and Food Science Pre-Major General Transfer |
| Oceanography And Marine Sciences Pre-Major | Transfer | Associate of Science - Transfer, Track 1 | Natural Sciences Transfer | Science - Technology - Engineering - Math | On Campus | | Oceanography and Marine Sciences Pre-Major Natural Sciences Transfer |
| Payroll Clerk | Certificate | Certificate of Completion | Accounting | Business and Management | Online, On Campus | | Payroll Clerk Certificate Accounting |
| Philosophy Pre-Major | Transfer | Associate of Arts - Direct Transfer Agreement | General Transfer | Social Sciences and Public Service | On Campus | | Philosophy Pre-Major General Transfer |
| Phlebotomy | Certificate | Certificate of Completion | Phlebotomy | Healthcare and Wellness | On Campus | | Phlebotomy Certificate Phlebotomy |
| Photography AFA | Transfer | Associate in Fine Arts | Fine Arts | Visual and Performing Arts | On Campus | | Photography AFA Fine Arts |
| Physics And Astronomy Pre-Major | Transfer | Associate of Science - Transfer, Track 2 | Physical Sciences Transfer | Science - Technology - Engineering - Math | On Campus | | Physics and Astronomy Pre-Major Physical Sciences Transfer |
| Political Science Pre-Major | Transfer | Associate of Arts - Direct Transfer Agreement | General Transfer | Social Sciences and Public Service | On Campus | | Political Science Pre-Major General Transfer |
| Pop And Commercial Music Theory | Certificate | Certificate of Completion | Music Technology | Visual and Performing Arts | On Campus | | Pop and Commercial Music Theory Certificate Music Technology |
| Pre-Nursing Pre-Major | Transfer | Associate of Arts - Direct Transfer Agreement/Major Related Program | General Transfer | Healthcare and Wellness | On Campus | | Pre-Nursing Pre-Major General Transfer |
| Principles Of Precision Machining | Certificate | Certificate of Completion | Manufacturing | Industrial Technology | On Campus | | Principles of Precision Machining Certificate Manufacturing |
| Project Management | Certificate | Certificate of Completion | Business Administration | Business and Management | Online, On Campus | | Project Management Certificate Business Administration |
| Psychology Pre-Major | Transfer | Associate of Arts - Direct Transfer Agreement | General Transfer | Social Sciences and Public Service | On Campus | | Psychology Pre-Major General Transfer |
| Public & Community Health Pre-Major | Transfer | Associate of Arts - Direct Transfer Agreement | General Transfer | Healthcare and Wellness | On Campus | | Public & Community Health Pre-Major General Transfer |
| Purchasing And Contract Management | Certificate | Certificate of Completion | Purchasing And Supply Chain Management | Business and Management | Online | | Purchasing and Contract Management Certificate Purchasing And Supply Chain Management |
| Purchasing And Supply Chain Management | Certificate | Certificate of Proficiency | Purchasing And Supply Chain Management | Business and Management | Online | | Purchasing and Supply Chain Management Certificate Purchasing And Supply Chain Management |
| Purchasing And Supply Chain Management | Prof / Tech Degree | Associate of Applied Arts and Sciences | Purchasing And Supply Chain Management | Business and Management | Online | | Purchasing and Supply Chain Management AAAS Purchasing And Supply Chain Management |
| Purchasing And Supply Chain Management | Certificate | Certificate of Completion | Purchasing And Supply Chain Management | Business and Management | Online | | Purchasing and Supply Chain Management Certificate Purchasing And Supply Chain Management |
| Quality Assurance | Certificate | Certificate of Completion | Manufacturing | Industrial Technology | On Campus | | Quality Assurance Certificate Manufacturing |
| Retail Management | Prof / Tech Degree | Associate of Applied Arts and Sciences | Business Administration | Business and Management | On Campus | | Retail Management AAAS Business Administration |
| Retail Management (30 credits) | Certificate | Certificate of Completion | Business Administration | Business and Management | On Campus | | Retail Management Certificate (30 credits) Business Administration |
| Retail Management (45 credits) | Certificate | Certificate of Proficiency | Business Administration | Business and Management | On Campus | | Retail Management Certificate (45 credits) Business Administration |
| Retail Management Western Association Of Food Chains (WAFC Endorsement) | Certificate | Certificate of Completion | Business Administration | Business and Management | On Campus | | Retail Management Western Association Of Food Chains (Wafc Endorsement) Certificate Business Administration |
| Secondary Education Pre-Major | Transfer | Associate of Arts - Direct Transfer Agreement | General Transfer | Social Sciences and Public Service | On Campus | | Secondary Education Pre-Major General Transfer |
| Social Media Marketing | Certificate | Certificate of Completion | Business Administration | Business and Management | Online, On Campus | | Social Media Marketing Certificate Business Administration |
| Social Work And Human Services Pre-Major | Transfer | Associate of Arts - Direct Transfer Agreement | General Transfer | Social Sciences and Public Service | On Campus | | Social Work and Human Services Pre-Major General Transfer |
| Sociology Pre-Major | Transfer | Associate of Arts - Direct Transfer Agreement | General Transfer | Social Sciences and Public Service | On Campus | | Sociology Pre-Major General Transfer |
| Special Education | Prof / Tech Degree | Associate of Applied Arts and Sciences | Early Childhood Education | Social Sciences and Public Service | On Campus | | Special Education AAAS Early Childhood Education |
| Speech and Hearing Sciences Pre-Major | Transfer | Associate of Arts - Direct Transfer Agreement | General Transfer | Healthcare and Wellness | On Campus | | Speech and Hearing Sciences Pre-Major General Transfer |
| State Early Childhood Education | Certificate | Certificate of Proficiency | Early Childhood Education | Social Sciences and Public Service | Online, On Campus | | State Early Childhood Education Certificate Early Childhood Education |
| State Initial Early Childhood Education | Certificate | Certificate of Completion | Early Childhood Education | Social Sciences and Public Service | Online, On Campus | | State Initial Early Childhood Education Certificate Early Childhood Education |
| State Short Early Childhood Education Certificate - General | Certificate | Certificate of Completion | Early Childhood Education | Social Sciences and Public Service | Online, On Campus | | State Short Early Childhood Education Certificate - General Early Childhood Education |
| State Short Early Childhood Education Certificate - Infants & Toddlers | Certificate | Certificate of Completion | Early Childhood Education | Social Sciences and Public Service | Online, On Campus | | State Short Early Childhood Education Certificate - Infants and Toddlers Early Childhood Education |
| Supplier Relations And Logistics | Certificate | Certificate of Completion | Purchasing And Supply Chain Management | Business and Management | Online | | Supplier Relations and Logistics Certificate Purchasing And Supply Chain Management |
| Sustainable Business Leadership | Certificate | Certificate of Completion | Business Administration | Business and Management | Online | | Sustainable Business Leadership Certificate Business Administration |
| Sustainable Purchasing & Supply Chain Management | Certificate | Certificate of Completion | Purchasing And Supply Chain Management | Business and Management | Online | | Sustainable Purchasing and Supply Chain Management Certificate Purchasing And Supply Chain Management |
| Tax Preparer | Certificate | Certificate of Completion | Accounting | Business and Management | Online, On Campus | | Tax Preparer Certificate Accounting |
| Visual Communications Business Foundation | Certificate | Certificate of Completion | Visual Communications Technology | Visual and Performing Arts | On Campus | | Visual Communications Business Foundation Certificate Visual Communications Technology |
| Visual Communications Computer Foundation | Certificate | Certificate of Completion | Visual Communications Technology | Visual and Performing Arts | On Campus | | Visual Communications Computer Foundation Certificate Visual Communications Technology |
| Visual Communications Foundation | Certificate | Certificate of Proficiency | Visual Communications Technology | Visual and Performing Arts | On Campus | | Visual Communications Foundation Certificate Visual Communications Technology |
| Visual Communications Foundation With Customized Specialization | Certificate | Certificate of Proficiency | Visual Communications Technology | Visual and Performing Arts | On Campus | | Visual Communications Foundation with Specialization Certificate Visual Communications Technology |
| Web Design | Certificate | Certificate of Completion | Visual Communications Technology | Visual and Performing Arts | On Campus | | Web Design Certificate Visual Communications Technology |
| World Languages Pre-Major | Transfer | Associate of Arts - Direct Transfer Agreement | General Transfer | Languages and Communication | On Campus | | World Languages Pre-Major General Transfer |
| Writing & Directing for the Camera | Certificate | Certificate of Proficiency | Performance Arts And Digital Filmmaking | Visual and Performing Arts | On Campus | | Writing and Directing for the Camera Certificate Performance Arts And Digital Filmmaking |