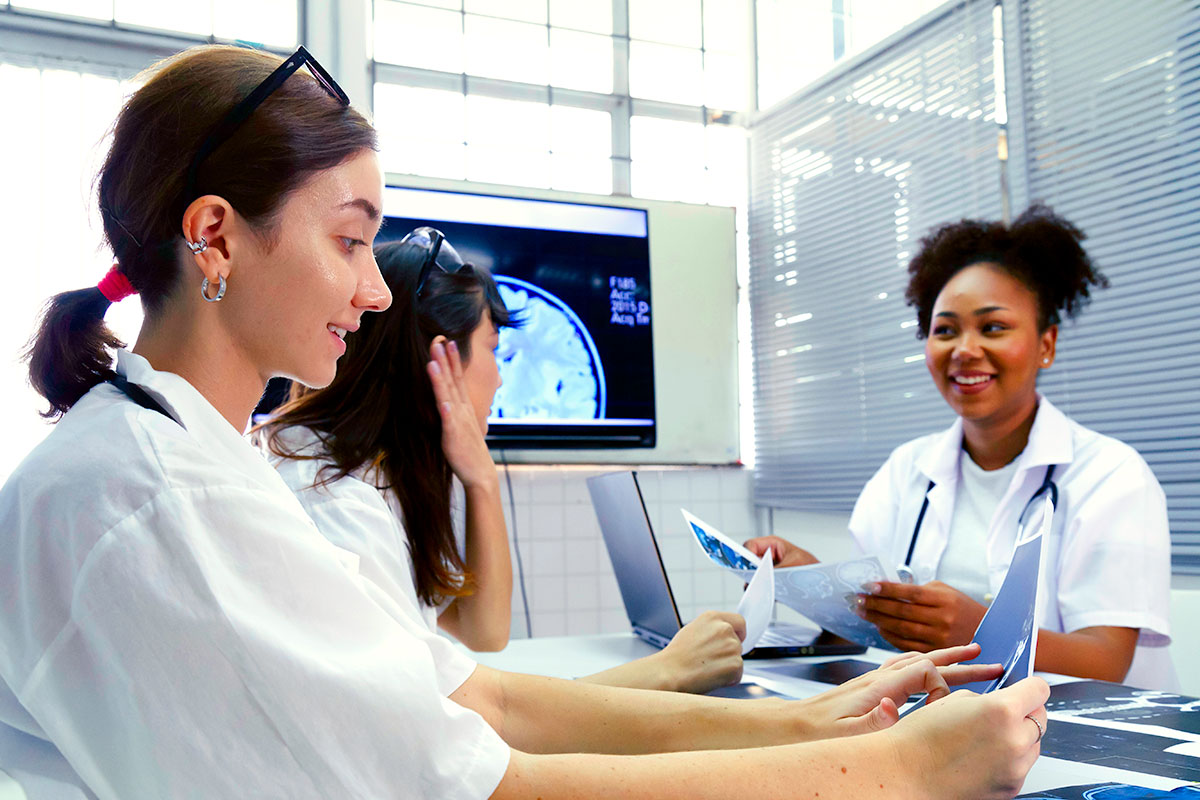 If you enjoy promoting health, care about others, are interested in life sciences, or like finding solutions that benefit people, a career in a health and wellness field may be for you.
The health and wellness fields help people thrive and live healthy lives. Find endless opportunity in the ever-growing healthcare field with career opportunities such as:
Certified nursing assistant
Coding and billing specialist
Dental hygenist
Dietitian
Medical lab technician
Registered nurse
Health Information Technologist (medical record)
If you are thinking of pursuing a post-baccalaureate graduate/professional degree to become a dentist, doctor, naturopath, optometrist, pharmacist, physical therapist, or speech therapist (or similar) please meet with an Academic Advisor to determine the best transfer degree and Pathway for you.
Choose from a short-term certificate, two-year degree, or transfer degree. Whatever your goal, Shoreline has a program for you.
Looking for something else?
| Program Option | Program Type | Completion Award | Program Parent | Area of Study | Program Format | Department Name | Search Option |
| --- | --- | --- | --- | --- | --- | --- | --- |
| Accounting | Prof / Tech Degree | Associate of Applied Arts and Sciences | Accounting | Business and Management | Online, On Campus | | Accounting AAAS Accounting |
| Accounting | Certificate | Certificate of Proficiency | Accounting | Business and Management | Online, On Campus | | Accounting Certificate Accounting |
| Accounting Clerk | Certificate | Certificate of Completion | Accounting | Business and Management | Online, On Campus | | Accounting Clerk Certificate Accounting |
| Accounts Receivable Clerk | Certificate | Certificate of Completion | Accounting | Business and Management | Online, On Campus | | Accounts Receivable Clerk Certificate Accounting |
| Acting for Stage and Camera | Certificate | Certificate of Proficiency | Performance Arts And Digital Filmmaking | Visual and Performing Arts | On Campus | | Acting for Stage and Camera Certificate Performance Arts And Digital Filmmaking |
| Aeronautical, Civil, Industrial, Manufacturing, Materials Science, Mechanical Engineering, Plastics and Composites Pre-Major | Transfer | Associate of Science - Transfer, Track 2/Major Related Program | Physical Sciences Transfer | Science - Technology - Engineering - Math | On Campus | | Aeronautical, Civil, Industrial, Manufacturing, Materials Science, Mechanical Engineering, Plastics and Composites Pre-Major Physical Sciences Transfer |
| American Ethnic Studies Pre-Major | Transfer | Associate of Arts - Direct Transfer Agreement | General Transfer | Social Sciences and Public Service | On Campus | | American Ethnic Studies Pre-Major General Transfer |
| Animation/Video for Multimedia | Prof / Tech Degree | Associate of Applied Arts and Sciences | Visual Communications Technology | Visual and Performing Arts | On Campus | | Animation/Video for Multimedia AAAS Visual Communications Technology |
| Anthropology Pre-Major | Transfer | Associate of Arts - Direct Transfer Agreement | General Transfer | Social Sciences and Public Service | On Campus | | Anthropology Pre-Major General Transfer |
| Art History Pre-Major | Transfer | Associate of Arts - Direct Transfer Agreement | General Transfer | Visual and Performing Arts | On Campus | | Art History Pre-Major General Transfer |
| Art and Design Foundation | Certificate | Certificate of Completion | Visual Communications Technology | Visual and Performing Arts | On Campus | | Art and Design Foundation Certificate Visual Communications Technology |
| Asian Studies Pre-Major | Transfer | Associate of Arts - Direct Transfer Agreement | General Transfer | Social Sciences and Public Service | On Campus | | Asian Studies Pre-Major General Transfer |
| Audio Engineering Production | Prof / Tech Degree | Associate of Applied Arts and Sciences | Music Technology | Visual and Performing Arts | On Campus | | Audio Engineering Production AAAS Music Technology |
| Automotive General Service Technician | Certificate | Certificate of Proficiency | Automotive | Industrial Technology | On Campus | | Automotive General Service Technician (GST) Certificate Automotive |
| Automotive Service Technician | Prof / Tech Degree | Associate of Applied Arts and Sciences | Automotive | Industrial Technology | On Campus | | Automotive Service Technician AAAS Automotive |
| Automotive Technician: Honda Professional Automotive Career Training (PACT) | Prof / Tech Degree | Associate of Applied Arts and Sciences | Automotive | Industrial Technology | On Campus | | Honda Professional Automotive Career Training (PACT) AAAS Automotive |
| Automotive Technician: Mopar College Automotive Program (MoparCAP) | Prof / Tech Degree | Associate of Applied Arts and Sciences | Automotive | Industrial Technology | On Campus | | Mopar College Automotive Program (MoparCAP) AAAS Automotive |
| Automotive Technician: Toyota Technician Training and Education Network (T-TEN) | Prof / Tech Degree | Associate of Applied Arts and Sciences | Automotive | Industrial Technology | On Campus | | Toyota Technician Training and Education Network (T-TEN) AAAS Automotive |
| Basic Manufacturing | Certificate | Certificate of Completion | Manufacturing | Industrial Technology | On Campus | | Basic Manufacturing Certificate Manufacturing |
| Bioengineering and Chemical Engineering Pre-Major | Transfer | Associate of Science - Transfer, Track 2/Major Related Program | Physical Sciences Transfer | Science - Technology - Engineering - Math | On Campus | | Bioengineering and Chemical Engineering Pre-Major Physical Sciences Transfer |
| Biological Sciences Pre-Major | Transfer | Associate of Science - Transfer, Track 1 | Natural Sciences Transfer | Science - Technology - Engineering - Math | On Campus | | Biological Sciences Pre-Major Natural Sciences Transfer |
| Biotechnology Lab Specialist | Prof / Tech Degree | Associate of Applied Arts and Sciences | Biotechnology | | On Campus | | Biotechnology Lab Specialist AAAS Biotechnology |
| Biotechnology Lab Specialist | Certificate | Certificate of Completion | Biotechnology | Science - Technology - Engineering - Math | On Campus | | Biotechnology Lab Specialist Certificate Biotechnology |
| Business | Prof / Tech Degree | Associate of Applied Arts and Sciences | Business Administration | Business and Management | Online, On Campus | | Business AAAS Business Administration |
| Business Intelligence and Data Analytics | Prof / Tech Degree | Associate of Applied Arts and Sciences | Business Intelligence and Data Analytics | Business and Management | Online, On Campus | | Business Intelligence and Data Analytics AAAS Business Intelligence and Data Analytics |
| Business Pre-Major | Transfer | Associate of Arts - Direct Transfer Agreement/Major Related Program | General Transfer | Business and Management | Online, On Campus | | Business Pre-Major General Transfer |
| Chemistry/Biochemistry Pre-Major | Transfer | Associate of Science - Transfer, Track 1 | Natural Sciences Transfer | Science - Technology - Engineering - Math | On Campus | | Chemistry/Biochemistry Pre-Major Natural Sciences Transfer |
| Child Advocacy Studies | Certificate | Certificate of Completion | Early Childhood Education | Social Sciences and Public Service | Online, On Campus | | Child Advocacy Studies Certificate Early Childhood Education |
| Cinema, Film & Media Studies Pre-Major | Transfer | Associate of Arts - Direct Transfer Agreement | General Transfer | Visual and Performing Arts | On Campus | | Cinema, Film & Media Studies Pre-Major General Transfer |
| Classical Piano | Prof / Tech Degree | Associate in Music | Music | Visual and Performing Arts | On Campus | | Classical Piano AM Music |
| Classical Voice | Prof / Tech Degree | Associate in Music | Music | Visual and Performing Arts | On Campus | | Classical Voice AM Music |
| Clean Energy Technology & Entrepreneurship | Prof / Tech Degree | Associate of Applied Arts and Sciences | Clean Energy Technology | Industrial Technology | On Campus | | Clean Energy Technology and Entrepreneurship AAAS Clean Energy Technology |
| Clean Energy Technology & Entrepreneurship | Certificate | Certificate of Proficiency | Clean Energy Technology | Industrial Technology | On Campus | | Clean Energy Technology & Entrepreneurship Certificate Clean Energy Technology |
| Communication Studies Pre-Major | Transfer | Associate of Arts - Direct Transfer Agreement | General Transfer | Languages and Communication | On Campus | | Communication Studies Pre-Major General Transfer |
| Comprehensive Coding & Revenue Integrity Specialist | Certificate | Certificate of Proficiency | Health Informatics and Information Management | Healthcare and Wellness | Online | | Comprehensive Coding & Revenue Integrity Specialist Health Informatics and Information Management |
| Computer Graphics Foundation | Certificate | Certificate of Completion | Visual Communications Technology | Visual and Performing Arts | On Campus | | Computer Graphics Foundation Certificate Visual Communications Technology |
| Computer Science & Software Systems Pre-Major | Transfer | Associate of Arts - Direct Transfer Agreement | General Transfer | Science - Technology - Engineering - Math | On Campus | | Computer Science & Software Systems Pre-Major General Transfer |
| Computer Science Pre-Major | Transfer | Associate of Arts - Direct Transfer Agreement/Major Related Program | General Transfer | | Online, On Campus | | Computer Science Pre-Major General Transfer |
| Computer and Electrical Engineering Pre-Major | Transfer | Associate of Science - Transfer, Track 2/Major Related Program | Physical Sciences Transfer | Science - Technology - Engineering - Math | On Campus | | Computer & Electrical Engineering Pre-Major Physical Sciences Transfer |
| Construction Management Pre-Major | Transfer | Associate of Arts - Direct Transfer Agreement/Major Related Program | General Transfer | Business and Management | On Campus | | Construction Management Pre-Major General Transfer |
| Creative Project Management | Prof / Tech Degree | Associate of Applied Arts and Sciences | Visual Communications Technology | Visual and Performing Arts | On Campus | | Creative Project Management AAAS Visual Communications Technology |
| Creative Writing Pre-Major | Transfer | Associate of Arts - Direct Transfer Agreement | General Transfer | Languages and Communication | On Campus | | Creative Writing Pre-Major General Transfer |
| Criminal Justice | Prof / Tech Degree | Associate of Applied Arts and Sciences | Criminal Justice | Social Sciences and Public Service | Online, On Campus | | Criminal Justice AAAS Criminal Justice |
| Criminal Justice Advocacy Certificate | Certificate | Certificate of Completion | Criminal Justice | Social Sciences and Public Service | Online | | Criminal Justice Advocacy Certificate Criminal Justice |
| Criminal Justice Pre-Major | Transfer | Associate of Arts - Direct Transfer Agreement | General Transfer | Social Sciences and Public Service | On Campus | | Criminal Justice Pre-Major General Transfer |
| Dental Hygiene | Prof / Tech Degree | Associate of Applied Arts and Sciences | Dental Hygiene | Healthcare and Wellness | On Campus | | Dental Hygiene AAAS Dental Hygiene |
| Digital Film Production | Prof / Tech Degree | Associate of Applied Arts and Sciences | Performance Arts And Digital Filmmaking | Visual and Performing Arts | On Campus | | Digital Film Production AAAS Performance Arts And Digital Filmmaking |
| Digital Illustration/Animation | Certificate | Certificate of Completion | Visual Communications Technology | Visual and Performing Arts | On Campus | | Digital Illustration/Animation Certificate Visual Communications Technology |
| Digital Photography | Certificate | Certificate of Completion | Visual Communications Technology | Visual and Performing Arts | On Campus | | Digital Photography Certificate Visual Communications Technology |
| Digital Video | Certificate | Certificate of Completion | Visual Communications Technology | Visual and Performing Arts | On Campus | | Digital Video Certificate Visual Communications Technology |
| Drama & Theater Arts Pre-Major | Transfer | Associate of Arts - Direct Transfer Agreement | General Transfer | Visual and Performing Arts | On Campus | | Drama & Theater Arts Pre-Major General Transfer |
| Early Childhood Education | Prof / Tech Degree | Associate of Applied Arts and Sciences | Early Childhood Education | Social Sciences and Public Service | On Campus | | Early Childhood Educator/Paraeducator AAAS Early Childhood Education |
| Economics Pre-Major | Transfer | Associate of Arts - Direct Transfer Agreement | General Transfer | Business and Management | On Campus | | Economics Pre-Major General Transfer |
| Electric Vehicle Technician (Tesla) | Prof / Tech Degree | Certificate of Completion | Automotive | Industrial Technology | On Campus | | Electric Vehicle Technician (Tesla) Certificate Automotive |
| Electronic Music Production | Prof / Tech Degree | Associate of Applied Arts and Sciences | Music Technology | Visual and Performing Arts | On Campus | | Electronic Music Production AAAS Music Technology |
| Elementary Education Pre-Major | Transfer | Associate of Arts - Direct Transfer Agreement | General Transfer | Social Sciences and Public Service | On Campus | | Elementary Education Pre-Major General Transfer |
| Engineering Pre-Major | Transfer | Associate of Science - Transfer, Track 2 | Physical Sciences Transfer | Science - Technology - Engineering - Math | On Campus | | Engineering Pre-Major Physical Sciences Transfer |
| Entrepreneurship | Prof / Tech Degree | Associate of Applied Arts and Sciences | Business Administration | Business and Management | On Campus | | Entrepreneurship AAAS Business Administration |
| Entrepreneurship | Certificate | Certificate of Proficiency | Business Administration | Business and Management | On Campus | | Entrepreneurship Certificate Business Administration |
| Entrepreneurship (30 credits) | Certificate | Certificate of Completion | Business Administration | Business and Management | On Campus | | Entrepreneurship Certificate (30 credits) Business Administration |
| Environmental Health Pre-Major | Transfer | Associate of Science - Transfer, Track 1 | Natural Sciences Transfer | Science - Technology - Engineering - Math | On Campus | | Environmental Health Pre-Major Natural Sciences Transfer |
| Environmental Sciences Pre-Major | Transfer | Associate of Science - Transfer, Track 1 | Natural Sciences Transfer | Science - Technology - Engineering - Math | On Campus | | Environmental Sciences Pre-Major Natural Sciences Transfer |
| Environmental Studies Pre-Major | Transfer | Associate of Arts - Direct Transfer Agreement | General Transfer | Science - Technology - Engineering - Math | On Campus | | Environmental Studies Pre-Major General Transfer |
| Essentials of Biomanufacturing Certificate | Certificate | Certificate of Completion | Biotechnology | Healthcare and Wellness | Online, On Campus | | Essentials of Biomanufacturing Certificate Biotechnology |
| Exercise Science & Kinesiology Pre-Major | Transfer | Associate of Arts - Direct Transfer Agreement | General Transfer | Healthcare and Wellness | On Campus | | Exercise Science & Kinesiology Pre-Major General Transfer |
| Foundation Studio Art AFA | Transfer | Associate in Fine Arts | Fine Arts | Visual and Performing Arts | On Campus | | Foundation Studio Art AFA Fine Arts |
| Foundations of Digital Audio - Pro Tools | Certificate | Certificate of Completion | Music Technology | Visual and Performing Arts | On Campus | | Foundations of Digital Audio - Pro Tools Certificate Music Technology |
| Foundations of Electronic Music | Certificate | Certificate of Completion | Music Technology | Visual and Performing Arts | Online, On Campus | | Foundations of Electronic Music Certificate Music Technology |
| Foundations of Multi-Track Recording | Certificate | Certificate of Completion | Music Technology | Visual and Performing Arts | On Campus | | Foundations of Multi-Track Recording Certificate Music Technology |
| Foundations of Music Business | Certificate | Certificate of Completion | Music Technology | Visual and Performing Arts | On Campus | | Foundations of Music Business Certificate Music Technology |
| Game Art & Design | Prof / Tech Degree | Associate of Applied Arts and Sciences | Visual Communications Technology | Visual and Performing Arts | On Campus | | Game Art and Design AAAS Visual Communications Technology |
| Gender & Women's Studies Pre-Major | Transfer | Associate of Arts - Direct Transfer Agreement | General Transfer | Social Sciences and Public Service | On Campus | | Gender & Women's Studies Pre-Major General Transfer |
| General Business Administration | Certificate | Certificate of Completion | Business Administration | Business and Management | On Campus | | General Business Administration Certificate Business Administration |
| General Business Administration | Certificate | Certificate of Proficiency | Business Administration | Business and Management | On Campus | | General Business Administration Certificate Business Administration |
| General Business Administration | Prof / Tech Degree | Associate of Applied Arts and Sciences | Business Administration | Business and Management | On Campus | | General Business Administration AAAS Business Administration |
| General Motors Automotive Service Educational Program (ASEP) | Prof / Tech Degree | Associate of Applied Arts and Sciences | Automotive | Industrial Technology | On Campus | | General Motors Automotive Service Educational Program (ASEP) AAAS Automotive |
| Geography Pre-Major | Transfer | Associate of Arts - Direct Transfer Agreement | General Transfer | Social Sciences and Public Service | On Campus | | Geography Pre-Major General Transfer |
| Geology & Earth Sciences Pre-Major | Transfer | Associate of Science - Transfer, Track 1 | Natural Sciences Transfer | Science - Technology - Engineering - Math | On Campus | | Geology & Earth Sciences Pre-Major Natural Sciences Transfer |
| Graphic Design | Prof / Tech Degree | Associate of Applied Arts and Sciences | Visual Communications Technology | Visual and Performing Arts | On Campus | | Graphic Design AAAS Visual Communications Technology |
| Health Data Analyst Certificate | Certificate | Certificate of Completion | Health Informatics and Information Management | Healthcare and Wellness | Online | | Health Data Analyst Certificate Health Informatics and Information Management |
| Health Informatics & Information Management Pre-Major | Transfer | Associate of Arts - Direct Transfer Agreement | General Transfer | Healthcare and Wellness | On Campus | | Health Informatics & Information Management Pre-Major General Transfer |
| Health Information Foundations | Certificate | Certificate of Completion | Health Informatics and Information Management | Healthcare and Wellness | Online | | Health Information Foundations Certificate Health Informatics and Information Management |
| Health Information Technology | Prof / Tech Degree | Associate of Applied Arts and Sciences | Health Informatics and Information Management | Healthcare and Wellness | Online | | Health Information Technology AAAS Health Informatics and Information Management |
| History Pre-Major | Transfer | Associate of Arts - Direct Transfer Agreement | General Transfer | Social Sciences and Public Service | On Campus | | History Pre-Major General Transfer |
| Humanities Pre-Major | Transfer | Associate of Arts - Direct Transfer Agreement | General Transfer | Visual and Performing Arts | On Campus | | Humanities Pre-Major General Transfer |
| Informatics Pre-Major | Transfer | Associate of Arts - Direct Transfer Agreement | General Transfer | Social Sciences and Public Service | On Campus | | Informatics Pre-Major General Transfer |
| Instrumental Music | Prof / Tech Degree | Associate in Music | Music | Visual and Performing Arts | On Campus | | Instrumental Music AM Music |
| International Trade | Certificate | Certificate of Completion | Business Administration | Business and Management | On Campus | | International Trade Certificate Business Administration |
| International/Global Studies Pre-Major | Transfer | Associate of Arts - Direct Transfer Agreement | General Transfer | Social Sciences and Public Service | On Campus | | International/Global Studies Pre-Major General Transfer |
| Journalism Pre-Major | Transfer | Associate of Arts - Direct Transfer Agreement | General Transfer | Languages and Communication | On Campus | | Journalism Pre-Major General Transfer |
| Language & Literature Pre-Major | Transfer | Associate of Arts - Direct Transfer Agreement | General Transfer | Languages and Communication | On Campus | | Language & Literature Pre-Major General Transfer |
| Logic: Digital Audio | Certificate | Certificate of Completion | Music Technology | Visual and Performing Arts | On Campus | | Logic: Digital Audio Certificate Music Technology |
| Machine Maintenance | Certificate | Certificate of Completion | Manufacturing | Industrial Technology | On Campus | | Machine Maintenance Certificate Manufacturing |
| Manufacturing/Machinist Technology | Prof / Tech Degree | Associate of Applied Arts and Sciences | Manufacturing | Industrial Technology | On Campus | | Manufacturing/Machinist Technology AAAS Manufacturing |
| Manufacturing/Machinist Technology | Certificate | Certificate of Proficiency | Manufacturing | Industrial Technology | On Campus | | Manufacturing/Machinist Technology Certificate Manufacturing |
| Marketing | Certificate | Certificate of Proficiency | Business Administration | Business and Management | On Campus | | Marketing Certificate Business Administration |
| Marketing | Certificate | Certificate of Completion | Business Administration | Business and Management | On Campus | | Marketing Certificate Business Administration |
| Marketing | Prof / Tech Degree | Associate of Applied Arts and Sciences | Business Administration | Business and Management | On Campus | | Marketing AAAS Business Administration |
| Mathematics/Applied Math/Statistics Pre-Major | Transfer | Associate of Arts - Direct Transfer Agreement | General Transfer | Science - Technology - Engineering - Math | On Campus | | Mathematics/Applied Math/Statistics Pre-Major General Transfer |
| Mechatronics | Prof / Tech Degree | Associate of Applied Arts and Sciences | Manufacturing | Industrial Technology | On Campus | | Mechatronics AAAS Manufacturing |
| Mechatronics | Certificate | Certificate of Proficiency | Manufacturing | Industrial Technology | On Campus | | Mechatronics Certificate Manufacturing |
| Medical Laboratory Science Pre-Major | Transfer | Associate of Science - Transfer, Track 1 | Natural Sciences Transfer | Healthcare and Wellness | On Campus | | Medical Laboratory Science Pre-Major Natural Sciences Transfer |
| Medical Laboratory Technology | Prof / Tech Degree | Associate of Applied Arts and Sciences | Medical Laboratory Technology | Healthcare and Wellness | On Campus | | Medical Laboratory Technology AAAS Medical Laboratory Technology |
| Medical Laboratory Technology Certificate of Proficiency | Certificate | Certificate of Proficiency | Medical Laboratory Technology | Healthcare and Wellness | On Campus | | Medical Laboratory Technology Certificate Medical Laboratory Technology |
| Multicultural Studies Pre-major | Transfer | Associate of Arts - Direct Transfer Agreement | General Transfer | Social Sciences and Public Service | On Campus | | Multicultural Studies Pre-major General Transfer |
| Music Business | Prof / Tech Degree | Associate of Applied Arts and Sciences | Music Technology | Visual and Performing Arts | On Campus | | Music Business AAAS Music Technology |
| Music Performance | Prof / Tech Degree | Associate of Applied Arts and Sciences | Music | Visual and Performing Arts | On Campus | | Music Performance AAAS Music |
| Music Pre-Major | Transfer | Associate of Arts - Direct Transfer Agreement | General Transfer | Visual and Performing Arts | On Campus | | Music Pre-Major General Transfer |
| Nursing (RN) - 10 Quarter Option | Prof / Tech Degree | Associate of Applied Sciences - Transfer | Nursing | Healthcare and Wellness | On Campus | | Nursing (RN) - 10-Quarter AAS-T Nursing |
| Nursing (RN) - 6 Quarter Option | Prof / Tech Degree | Associate of Applied Sciences - Transfer | Nursing | Healthcare and Wellness | On Campus | | Nursing (RN) - 6-Quarter AAS-T Nursing |
| Nursing - LPN to RN Advanced Placement Option AAS-T | Prof / Tech Degree | Associate of Applied Sciences - Transfer | Nursing | Healthcare and Wellness | On Campus | | Nursing - LPN to RN Advanced Placement Option AAS-T Nursing |
| Nursing Assistant Certified | Certificate | Certificate of Completion | Nursing Assistant Certified | Healthcare and Wellness | On Campus | | Nursing Assistant Certified Certificate Nursing Assistant Certified |
| Nutrition And Food Science Pre-Major | Transfer | Associate of Arts - Direct Transfer Agreement | General Transfer | Healthcare and Wellness | On Campus | | Nutrition and Food Science Pre-Major General Transfer |
| Oceanography And Marine Sciences Pre-Major | Transfer | Associate of Science - Transfer, Track 1 | Natural Sciences Transfer | Science - Technology - Engineering - Math | On Campus | | Oceanography and Marine Sciences Pre-Major Natural Sciences Transfer |
| Payroll Clerk | Certificate | Certificate of Completion | Accounting | Business and Management | Online, On Campus | | Payroll Clerk Certificate Accounting |
| Philosophy Pre-Major | Transfer | Associate of Arts - Direct Transfer Agreement | General Transfer | Social Sciences and Public Service | On Campus | | Philosophy Pre-Major General Transfer |
| Phlebotomy | Certificate | Certificate of Completion | Phlebotomy | Healthcare and Wellness | On Campus | | Phlebotomy Certificate Phlebotomy |
| Photography AFA | Transfer | Associate in Fine Arts | Fine Arts | Visual and Performing Arts | On Campus | | Photography AFA Fine Arts |
| Physics And Astronomy Pre-Major | Transfer | Associate of Science - Transfer, Track 2 | Physical Sciences Transfer | Science - Technology - Engineering - Math | On Campus | | Physics and Astronomy Pre-Major Physical Sciences Transfer |
| Political Science Pre-Major | Transfer | Associate of Arts - Direct Transfer Agreement | General Transfer | Social Sciences and Public Service | On Campus | | Political Science Pre-Major General Transfer |
| Pop And Commercial Music Theory | Certificate | Certificate of Completion | Music Technology | Visual and Performing Arts | On Campus | | Pop and Commercial Music Theory Certificate Music Technology |
| Pre-Nursing Pre-Major | Transfer | Associate of Arts - Direct Transfer Agreement/Major Related Program | General Transfer | Healthcare and Wellness | On Campus | | Pre-Nursing Pre-Major General Transfer |
| Principles Of Precision Machining | Certificate | Certificate of Completion | Manufacturing | Industrial Technology | On Campus | | Principles of Precision Machining Certificate Manufacturing |
| Project Management | Certificate | Certificate of Completion | Business Administration | Business and Management | Online, On Campus | | Project Management Certificate Business Administration |
| Psychology Pre-Major | Transfer | Associate of Arts - Direct Transfer Agreement | General Transfer | Social Sciences and Public Service | On Campus | | Psychology Pre-Major General Transfer |
| Public & Community Health Pre-Major | Transfer | Associate of Arts - Direct Transfer Agreement | General Transfer | Healthcare and Wellness | On Campus | | Public & Community Health Pre-Major General Transfer |
| Purchasing And Contract Management | Certificate | Certificate of Completion | Purchasing And Supply Chain Management | Business and Management | Online | | Purchasing and Contract Management Certificate Purchasing And Supply Chain Management |
| Purchasing And Supply Chain Management | Prof / Tech Degree | Associate of Applied Arts and Sciences | Purchasing And Supply Chain Management | Business and Management | Online | | Purchasing and Supply Chain Management AAAS Purchasing And Supply Chain Management |
| Purchasing And Supply Chain Management | Certificate | Certificate of Proficiency | Purchasing And Supply Chain Management | Business and Management | Online | | Purchasing and Supply Chain Management Certificate Purchasing And Supply Chain Management |
| Purchasing And Supply Chain Management | Certificate | Certificate of Completion | Purchasing And Supply Chain Management | Business and Management | Online | | Purchasing and Supply Chain Management Certificate Purchasing And Supply Chain Management |
| Quality Assurance | Certificate | Certificate of Completion | Manufacturing | Industrial Technology | On Campus | | Quality Assurance Certificate Manufacturing |
| Retail Management | Prof / Tech Degree | Associate of Applied Arts and Sciences | Business Administration | Business and Management | On Campus | | Retail Management AAAS Business Administration |
| Retail Management (30 credits) | Certificate | Certificate of Completion | Business Administration | Business and Management | On Campus | | Retail Management Certificate (30 credits) Business Administration |
| Retail Management (45 credits) | Certificate | Certificate of Proficiency | Business Administration | Business and Management | On Campus | | Retail Management Certificate (45 credits) Business Administration |
| Retail Management Western Association Of Food Chains (WAFC Endorsement) | Certificate | Certificate of Completion | Business Administration | Business and Management | On Campus | | Retail Management Western Association Of Food Chains (Wafc Endorsement) Certificate Business Administration |
| Secondary Education Pre-Major | Transfer | Associate of Arts - Direct Transfer Agreement | General Transfer | Social Sciences and Public Service | On Campus | | Secondary Education Pre-Major General Transfer |
| Social Media Marketing | Certificate | Certificate of Completion | Business Administration | Business and Management | Online, On Campus | | Social Media Marketing Certificate Business Administration |
| Social Work And Human Services Pre-Major | Transfer | Associate of Arts - Direct Transfer Agreement | General Transfer | Social Sciences and Public Service | On Campus | | Social Work and Human Services Pre-Major General Transfer |
| Sociology Pre-Major | Transfer | Associate of Arts - Direct Transfer Agreement | General Transfer | Social Sciences and Public Service | On Campus | | Sociology Pre-Major General Transfer |
| Special Education | Prof / Tech Degree | Associate of Applied Arts and Sciences | Early Childhood Education | Social Sciences and Public Service | On Campus | | Special Education AAAS Early Childhood Education |
| Speech and Hearing Sciences Pre-Major | Transfer | Associate of Arts - Direct Transfer Agreement | General Transfer | Healthcare and Wellness | On Campus | | Speech and Hearing Sciences Pre-Major General Transfer |
| State Early Childhood Education | Certificate | Certificate of Proficiency | Early Childhood Education | Social Sciences and Public Service | Online, On Campus | | State Early Childhood Education Certificate Early Childhood Education |
| State Initial Early Childhood Education | Certificate | Certificate of Completion | Early Childhood Education | Social Sciences and Public Service | Online, On Campus | | State Initial Early Childhood Education Certificate Early Childhood Education |
| State Short Early Childhood Education Certificate - General | Certificate | Certificate of Completion | Early Childhood Education | Social Sciences and Public Service | Online, On Campus | | State Short Early Childhood Education Certificate - General Early Childhood Education |
| State Short Early Childhood Education Certificate - Infants & Toddlers | Certificate | Certificate of Completion | Early Childhood Education | Social Sciences and Public Service | Online, On Campus | | State Short Early Childhood Education Certificate - Infants and Toddlers Early Childhood Education |
| Supplier Relations And Logistics | Certificate | Certificate of Completion | Purchasing And Supply Chain Management | Business and Management | Online | | Supplier Relations and Logistics Certificate Purchasing And Supply Chain Management |
| Sustainable Business Leadership | Certificate | Certificate of Completion | Business Administration | Business and Management | Online | | Sustainable Business Leadership Certificate Business Administration |
| Sustainable Purchasing & Supply Chain Management | Certificate | Certificate of Completion | Purchasing And Supply Chain Management | Business and Management | Online | | Sustainable Purchasing and Supply Chain Management Certificate Purchasing And Supply Chain Management |
| Tax Preparer | Certificate | Certificate of Completion | Accounting | Business and Management | Online, On Campus | | Tax Preparer Certificate Accounting |
| Visual Communications Business Foundation | Certificate | Certificate of Completion | Visual Communications Technology | Visual and Performing Arts | On Campus | | Visual Communications Business Foundation Certificate Visual Communications Technology |
| Visual Communications Computer Foundation | Certificate | Certificate of Completion | Visual Communications Technology | Visual and Performing Arts | On Campus | | Visual Communications Computer Foundation Certificate Visual Communications Technology |
| Visual Communications Foundation | Certificate | Certificate of Proficiency | Visual Communications Technology | Visual and Performing Arts | On Campus | | Visual Communications Foundation Certificate Visual Communications Technology |
| Visual Communications Foundation With Customized Specialization | Certificate | Certificate of Proficiency | Visual Communications Technology | Visual and Performing Arts | On Campus | | Visual Communications Foundation with Specialization Certificate Visual Communications Technology |
| Web Design | Certificate | Certificate of Completion | Visual Communications Technology | Visual and Performing Arts | On Campus | | Web Design Certificate Visual Communications Technology |
| World Languages Pre-Major | Transfer | Associate of Arts - Direct Transfer Agreement | General Transfer | Languages and Communication | On Campus | | World Languages Pre-Major General Transfer |
| Writing & Directing for the Camera | Certificate | Certificate of Proficiency | Performance Arts And Digital Filmmaking | Visual and Performing Arts | On Campus | | Writing and Directing for the Camera Certificate Performance Arts And Digital Filmmaking |