9000 Pagoda Union Building (PUB)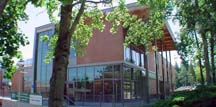 New PUB - Winter 2008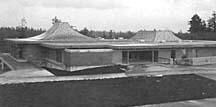 Original PUB - (Circa 1965)
Contact Us
Pagoda Union Building
PUB (9000) Bld.
Hours
Monday - Thursday
6:30 a.m. - 8 p.m.
Friday
6:30 a.m. - 5 p.m.
Closed - Weekends and holidays
Room numbers (for selected rooms):
Pagoda Union Building (PUB) - 9000 Building on the Shoreline Community College campus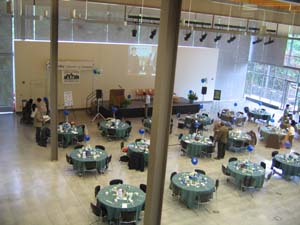 The remodeled PUB (Pagoda Union Building) opened for students and the community in 2008. This building houses the SCC bookstore, post office, EBBTIDE newspaper, International Education, Multicultural Center, and the Student Leadership Center. Student and community amenities include a quiet study lounge, gathering spaces, meeting rooms, two dining areas and a game room.
The College has hosted a number of campus and community events in the new facility, including conferences, charity dinners, special events, and meetings. The main dining room can accommodate up to 375 guests; and we have 30 round tables that can seat 6-8 people. The quiet, smaller dining room has a capacity of 109 guests; 90 if seated at tables. Conference rooms in the PUB are also available for meetings. Facility Rentals Contact Suzanne Gugger sgugger@shoreline.edu for reservation information.
Cafeteria Food Services
Food services, including deli and espresso items, will be provided. The vendor will focus on healthful menus that offer low-carb, low-fat, non-dairy and vegetarian options. Additionally, The Fresh Spot Cafe will provide catering and vending services on the College campus.
History
In May of 2006, the original SCC PUB was torn down and a new building was constructed on the existing footprint. The College created this website that provided ongoing information about the project. To view the construction process and history of the PUB on the SCC campus, please check out our PUB History page
The design for the new PUB was created by Opsis Architects of Portland, Oregon. Opsis specializes in student union buildings for college and university campuses, and has designed many of these facilities in the state of Washington. The remodeled PUB (Pagoda Union Building) opened for students and the community in Spring Quarter of 2008.