Veteran Merit Scholarship Recipient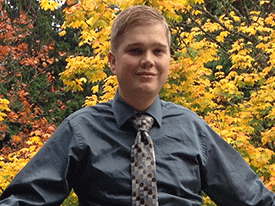 Stian Lunde Myraas
This scholarship, awarded by the Shoreline Community College Foundation, was established to honor U.S. military veterans or current military members who, as continuing Shoreline students, display exemplary academic performance.
Name
Stian Lunde Myraas
Area of Study / Educational Goals
Clean Energy Technology and general transfer degree.
Service Branch / MOS
U.S. Army National Guard / 25U Signal Systems Support Specialist
Why did you choose Shoreline Community College?
They offer huge discounts to veterans and offer courses in fields I am interested in. I also grew up right down the street and spent my elementary school days looking across the street at SCC during recess, so it fulfilled my childhood curiosity. When I first came to SCC I was unsure of what I wanted to study, but then I discovered their Clean Energy Technologies program and now I can't imagine I was ever considering going to school for anything else.
What does your scholarship cover? How will your scholarship help you?
My scholarship covers the tuition, fees, books, and parking that I have every quarter. Because I am using my 60% GI Bill® to cover most of my costs, the scholarship will be able to cover the rest until I have earned my degree. Without the burden of additional financial responsibility I was able to take up a position as a student representative which I am currently serving as.
Has the Veterans Programs Office been of help to you? If so, how?
Of course! When I came to Shoreline I had no clue where to even start. There were an incredible amount of pieces that had to fall into place, often in a certain order and sometimes it seemed in an incredibly short span of time. This was an incredibly confusing and often frustrating time, but I found help through the steps in both a formal capacity and by fellow veterans who had faced similar roadblocks to getting their school paperwork completed. I also always have a place to study between classes, and I have even received some private tutoring from other vets who are stronger in math than I am.
Any advice for incoming or currently enrolled student veterans?
Treat school like a job and work at it about 8 hours a day (for 15 credits), and if you really want to excel then work weekends too. Getting ahead early on in the quarter can really help if something unexpected comes up. If you are in the National Guard, then you can count on not having certain weekends to study, and it is no fun to do make-up and current classwork simultaneously. This is extra true if you have Annual Training and school simultaneously. It may seem impossible but with hard work I promise it can be done!
Stay in close contact with your instructors, especially if it is an online class.
Ask questions! Don't memorize things. Try to understand them. If you don't "get it", then ask questions that will help you understand. You may need to meet with your teacher during office hours for additional clarification.
Sit in the front row and dress for success; if you are struggling to stay awake or pay attention, this will make you feel more accountable and help build rapport with the instructor. If you show up to class looking and acting like you don't care, then that is the natural conclusion people will come to.
Finally, have fun! School can be stressful, but there is also a sense of togetherness and immediate camaraderie that you get as a vet. Whatever you need to talk about, be it good or bad, there is another vet who has been there and can lend you advice.
GI Bill® is a registered trademark of the U.S. Department of Veterans Affairs (VA). More information about education benefits offered by VA is available at the official U.S. government Web site at http://www.benefits.va.gov/gibill.