Q&A with a Merit Scholarship Recipient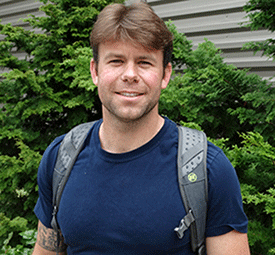 Justin Collins
The purpose of the merit scholarship is to encourage students who have demonstrated outstanding potential to succeed. Congratulations to student veteran Justin Collins as the 2014-2015 academic year recipient. For more information about scholarships, please visit the Shoreline Community College Foundation.
Name
Justin Collins
Area of Study / Educational Goals
Undergrad in International Studies/Masters in Business
Service Branch / MOS
Army, 11BP Airborne Infantry

Why did you choose Shoreline Community College?
I researched community colleges in the Seattle region, and Shoreline appealed the most to me because of their campus and faculty. I'm glad I made the choice because my professors have been excellent and highly influential in my academic vision for the future.
What does your scholarship cover? How will your scholarship help you?
My scholarship covers books and tuition, $1000 per quarter for the 2014-2015 school year. Since the VA pays for my tuition, I used the money for books and school supplies in the Shoreline Bookstore. In addition, and the most important, applying for the scholarship has provided me with the experience of putting together an essay and filing out all the necessary paperwork. Thus in the future, when I transfer to a University, I'll use what I learned from the experience of writing a scholarship essay and following an administrative process. I can also apply this knowledge to creating a better scholarship application packet in the future.
Has the Veterans Programs Office been of help to you? If so, how?
The Veterans Programs office has been a tremendous help, especially with questions about VA policy and procedures. The VA can be quite confusing and sometimes conflicts with academic interests. Rosemary and Missy have been, and continue to be, a critical asset from the administrative side of my academic career.
Any advice for incoming or currently enrolled student veterans?
There is a Get in Gear program designed for new incoming students to the college. I highly recommend taking this class, as well as classes from multiple disciplines. Having an entry-level sneak peak of multiple disciplines helps provide a knowledgeable foundation to decide which direction to go with your academic career. In addition, I believe all students, veteran or not, should take at least one of the International Studies classes offered here at Shoreline. The International studies class (INTS 200 or 201) is taught by multiple professors and provides an excellent overview of how we (human race) have reached the current state of the world today. Nothing exists today without history.
GI Bill® is a registered trademark of the U.S. Department of Veterans Affairs (VA). More information about education benefits offered by VA is available at the official U.S. government Web site at http://www.benefits.va.gov/gibill.