Community Employment Program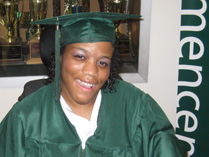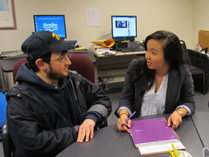 Community Employment Program
The Community Employment Program (CEP) is a specially funded program within Student Support Programs at Shoreline Community College. The Program serves students with disabilities. It supports the College's mission of dedication to serving the educational, workforce and cultural needs of our diverse community through providing supports to assist students in their unique pathways to employment.
Our Program provides wrap around services helping students/job seekers explore individualized career paths, build skills for the world of work, transition to and retain employment.
Accredited by:

Career Support Services:
Campus Classes and Academic Programs
Access to specialized campus programs and resources
Integration to campus life through clubs, governance & campus activities
Expansion and development of individual support networks in the Community
Self-Discovery and Pre-Employment Preparation
Job Matching and Trial Work Experience
Support and Advocacy on the Job
Coordination of services with the campus and outside entities
Other supports as necessary in support of individualized employment goals
Student Responsibilities and Rights
Program fees are independent of class tuition and fees.
You are responsible for identifying sources of funding prior to entry. You are responsible for your success at Shoreline Community College.
In order to receive services, you must request them each quarter they are needed.
You have a right to services and accommodations which will allow you to successfully compete on an equal basis with non-disabled students as long as you meet the basic requirements to perform activities of the program or occupation.
Confidentiality: We will not contact instructors regarding your need for classroom accommodation unless you have given specific permission for us to do so.
If you have a grievance, please contact the office for information regarding the appeals process through the Office of Civil Rights and/or SCC campus process.
If you need additional information about your rights, ADA, and/or Section 504 issues, you may contact: US Department of Education, Office of Civil Rights:(206) 607-1600; Washington State Human Rights Commission:1-800-233-3247 or (206) 464-6500, Seattle.
---

Shoreline Community College is committed to providing educational programs without regard to disabling conditions as defined by Section 504 of the Rehabilitation Act of 1973, the Americans with Disabilities Act and the Washington Core Services Bill. Reasonable accommodations will be made and no otherwise qualified individual with disabling conditions shall, on the basis of disability, be excluded from participation in, be denied the benefits of, or otherwise be subjected to discrimination under any program, activity or service administered by the college.