Commencement Ceremony
Join us in celebrating your academic achievement through Virtual Commencement and a Drive‑Thru Celebration on June 19th!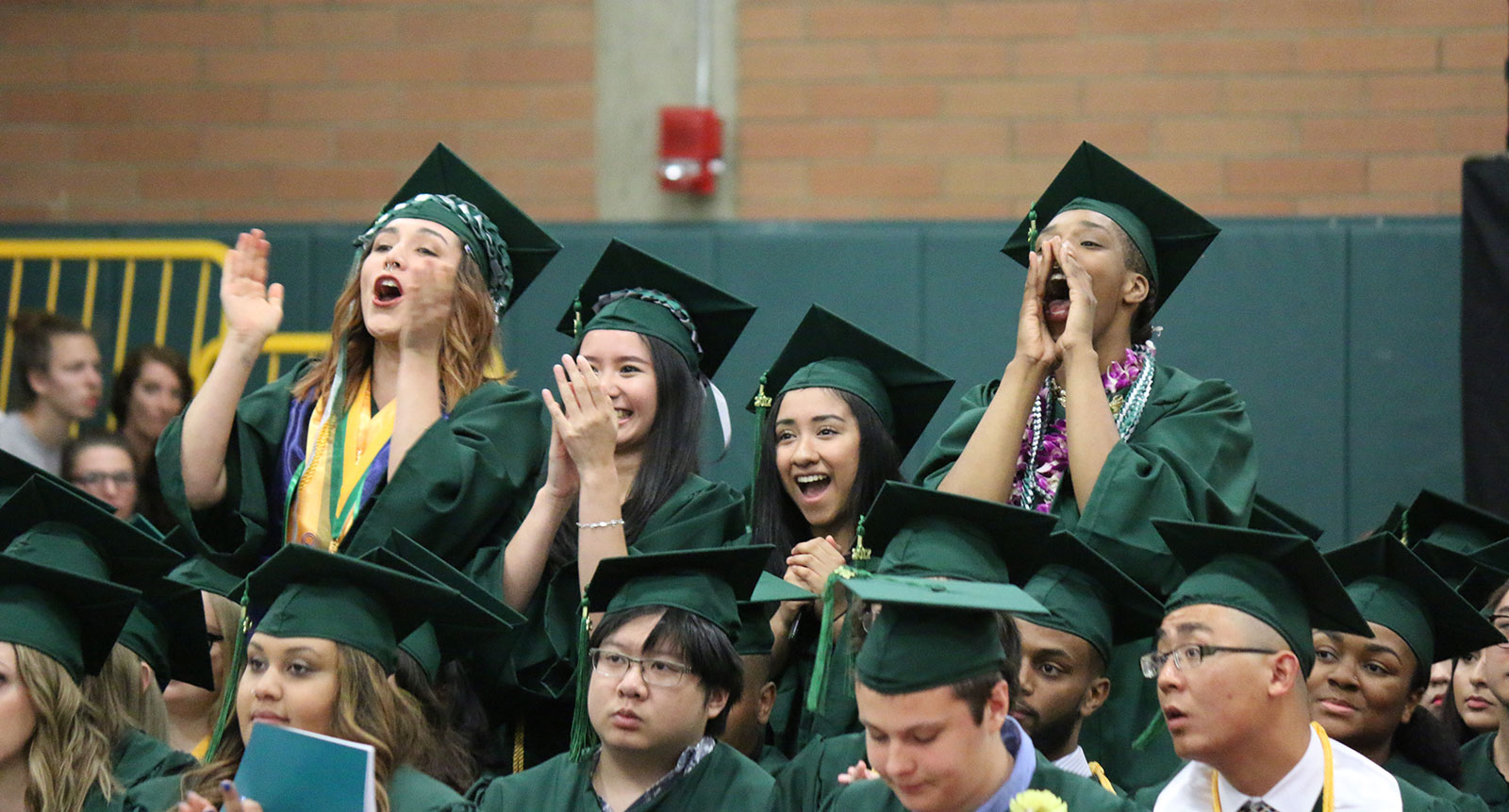 Celebrate your achievement!
Congratulations Class of 2021! Each of you has worked very hard and navigated tremendous hurdles to graduate. We are so excited to celebrate this important milestone along with your family and friends! On this page, you will find information that describes everything you need to know about this year's Commencement Ceremony.
Commencement Overview
Date:

Saturday, June 19, 2021

View the Ceremony:

Program:
Prepare for Commencement
In order to participate in Commencement, you will need to first complete a graduation application to officially confirm your intent to graduate within the 2020-21 school year. All students who have fulfilled their graduate requirements in the fall 2020, winter 2021, spring 2021, and summer 2021 quarters are eligible to apply.
If you are graduating from a professional/technical program, you will also need to submit a planning guide signed by your program advisor and division dean with your graduation application.
Virtual Ceremony
We know that not having an in-person ceremony may feel like a loss to some and we share your disappointment in not being able to celebrate this special event face to face. We acknowledge that a virtual ceremony is still the safest way to gather, and it allows us to include those of you who currently live in different states or countries. Our hope is that our virtual format (offered through Marching Order) will encourage all graduates, near and far, to safely celebrate their achievements with families and friends!
At 10am PDT on June 19, you can log into MarchingOrder to livestream the ceremony. Although the page won't be fully accessible until the day of the event, we recommend acquainting yourself with it ahead of time so you can join in confidence. You can also let friends and families know they will be able to find the livestream link embedded within this page on Saturday morning. Captions will be included and a recorded copy of the ceremony will be provided to all graduates after the event.
Campus Drive-Thru Celebration
If you're able, we invite you to participate in an optional drive-thru celebration in our campus parking lot after the virtual ceremony concludes on June 19 between 1-3 p.m. You'll have the opportunity to pick up your grad packs, Shoreline swag, and celebrate safely from the comfort of your vehicles. All graduates and their families and friends are only allowed to join in one vehicle.
Along with many Shoreline faculty and staff, we're so excited to cheer you on! If you'd like to attend, please RSVP online by Monday, June 14th. If you're unable to attend, we'll send your grad pack and memorabilia to your address on file at no charge.
To publicly recognize your accomplishments, download these Commencement graphics and show off your Phin Nation pride across your community!
Use #ShorelineGrad2021 when sharing photos and videos of your graduation celebrations on social media!
---
Consider nominating a student and/or faculty member to speak at this year's ceremony. We especially want to lift up individuals whose academic or personal experiences reflect the diversity of backgrounds represented on our campus and will select speakers based on these criteria. Students that are not chosen to be our Student Speaker will still have the opportunity to share their story, as some of the footage recorded will be displayed during the ceremony.
Student nominees must have their graduation applications submitted to be considered.
We are also excited to continue the tradition of presenting a Student Service Award to honor one or more of our students who have made significant contributions to the College community. Each year, this award is presented prior to Commencement. Recipient(s) will receive an individual plaque and their names will be added to a permanent plaque that is displayed in the Student Leadership Center.
Please Note: All nominations need to be submitted by Friday, May 7 at 11:59PM PDT to be considered.
Caps and gowns are not required to participate in Commencement, but we are offering them for purchase. To order, visit collegegrad.herffjones.com, and enter "Shoreline Community College" in the search bar underneath the welcome message.
All graduates will have until May 16th to place an order that will be shipped to campus for pick up or until May 24th to place an order that will be shipped to a U.S. residential address of their choosing. Orders generally take 2-3 weeks from the date it is placed until it is received. Please note that shipments to campus may take longer since those will be sent in bulk with all other on-campus orders. Sadly, we are unable to offer intentional shipping.
Please Note: Tassels will be included in our grad packs that are sent separately to all graduates who register for Commencement. This is at no cost to you!
We award official diplomas once a final graduation evaluation has occurred to confirm that you have satisfied all graduation requirements. Diplomas are mailed to Spring graduates in August/September and to Summer graduates in October.