Commencement Ceremony
Join us in celebrating your academic achievement on June 18th, 2022!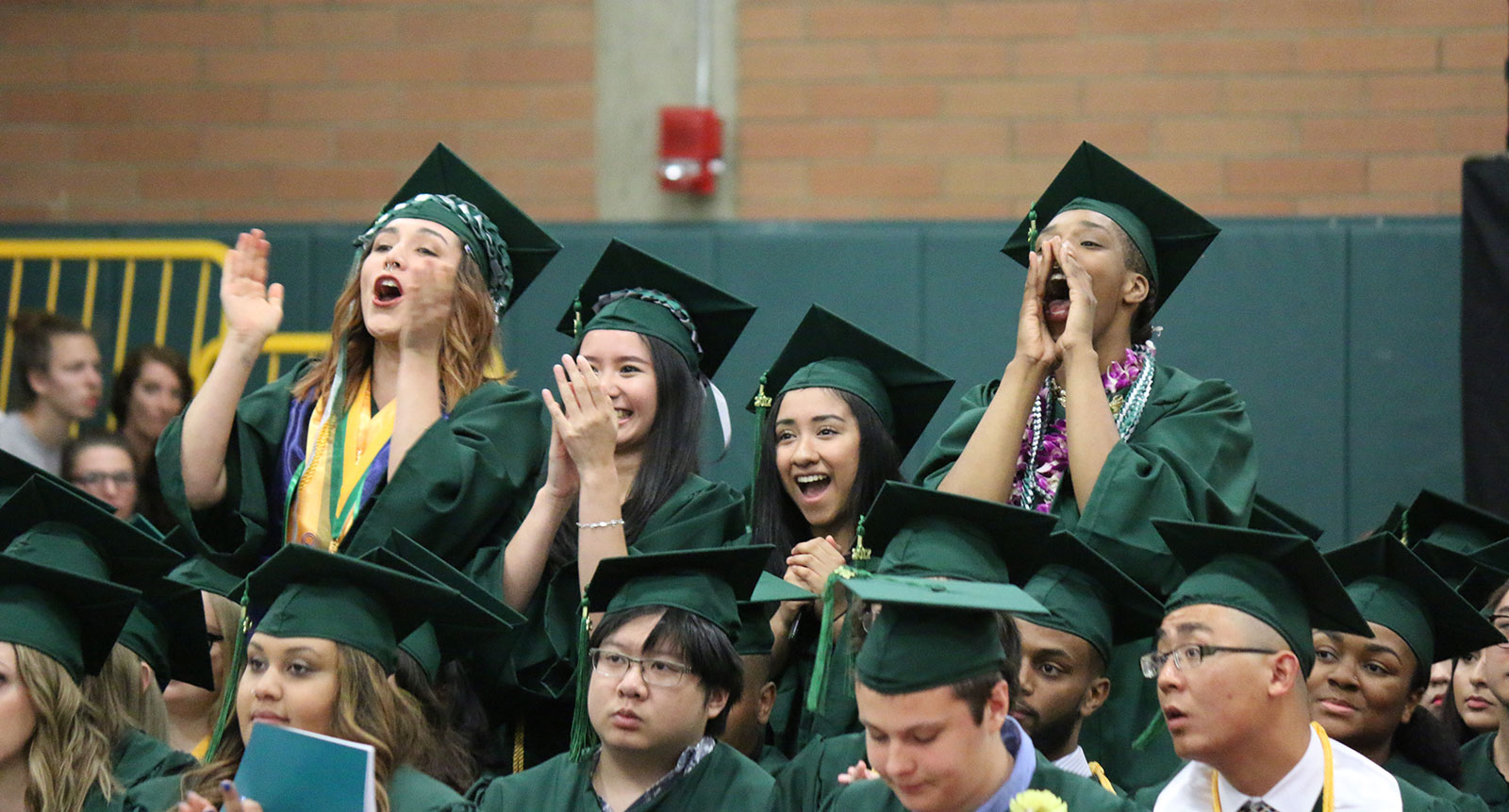 Celebrate your achievement!
Commencement is an opportunity for Shoreline students who have completed their studies to celebrate their accomplishments with families, friends, faculty, and staff in a formal ceremony at the end of the academic year. On this page, you will find information that describes everything you need to know about this year's Commencement Ceremony.
Commencement Overview
Date:

Saturday, June 18, 2022

Location:

Shoreline Gymnasium (3000 Building)

Program:

Ceremony Recordings:

This year's Commencement ceremonies were recorded and are available to view on YouTube.

Prepare for Commencement
In order to participate in Commencement, you will need to first complete an application to graduate to confirm your eligibility to graduate. All students who have fulfilled their graduate requirements between Fall 2021 and Summer 2022 quarters are eligible to apply and participate in Commencement. If you are graduating from a professional/technical program, you will also need to submit a planning guide signed by your program advisor and division dean with your graduation application.
Shoreline Community College is excited to announce the 2022 Commencement ceremonies will be held in-person on Saturday, June 18, 2022 in the gym (3000 building) on our campus. To space out seating and allow for lower occupancy in the gym to increase attendees' comfort, two ceremonies will be held - one beginning at 10am and the second beginning at 2pm. A small reception for graduates and their families will be held directly following the ceremony at the PUB (9000 building) Courtyard.
To sign up to participate in the Commencement ceremonies, click on the link below and submit the form by Monday, May 16, 2022.
Sign up to participate in Commencement
Students will be assigned to participate in either the morning or afternoon ceremony based on their degree/diploma type. For more information about which ceremony you will be assigned to, check out the information under 'Commencement Overview' above.
Graduates should plan to arrive 75 MINUTES before the ceremony begins and report to the lower level of the gymnasium. Please make arrangements to leave personal items such as purses and backpacks with your guests, as there will be no secure place to leave them in the gymnasium. Water will be provided for graduates.
Morning Ceremony: begins at 10am, line-up by 8:45am
Afternoon Ceremony: begins at 2pm, line up by 12:45pm
All graduates who have signed up for Commencement by Monday, May 16, 2022 will be provided with 4 tickets to distribute to friends and family for entry into the gym. Tickets are required for all guests except for children under 5 years of age who will sit on an adult's lap for the entirety of the event. Tickets are not required for graduates.
Doors to the main gym will close promptly at 10am and 2pm. Guests who arrive after this time will be directed to one of the viewing rooms (3000 small gym, PUB 9000 main dining room).
When completing the Commencement participation form, you will have an opportunity to provide your mailing address to receive your tickets and will be asked if you are interested in being added to the waitlist in case more tickets become available prior to the ceremony date.
The priority deadline to purchase regalia through this site has passed. Students can do so but will be required to pay an expedited shipping fee.
Caps and gowns are required to participate in the in-person Commencement ceremonies on Saturday, June 18, 2022. To order your cap and gown, as well as other optional accessories, visit the Josten's website using the link below.
For regalia orders that were submitted prior to the May 26, 2022 priority deadline, students should receive their items within 2-3 weeks. Each cap and gown should come with a tassel to be worn on Commencement day.
If the purchase of a cap and gown serves as a financial barrier for graduates, a limited amount of rental regalia is available. E-mail commencement@shoreline.edu to inquire about availability.
Parking on campus is free for graduates and their guests on Saturday, June 18, 2022. Visitors are allowed to park in student or staff parking (except for those stalls that are designated as reserved or restricted).
A shuttle will be available beginning 90 minutes before the start of each ceremony. It will stop near the visitor lot at the front of campus and outside the 1400 building, theater, and 2900 building. Guests who do would like to park and use the shuttle can go to one of the other stops and be taken to the 2900 building where they can use the elevator to access the front of the gymnasium (3000 building).
ADA event parking is available outside the 2900 building and at various locations on campus. For more information, refer to the campus map below.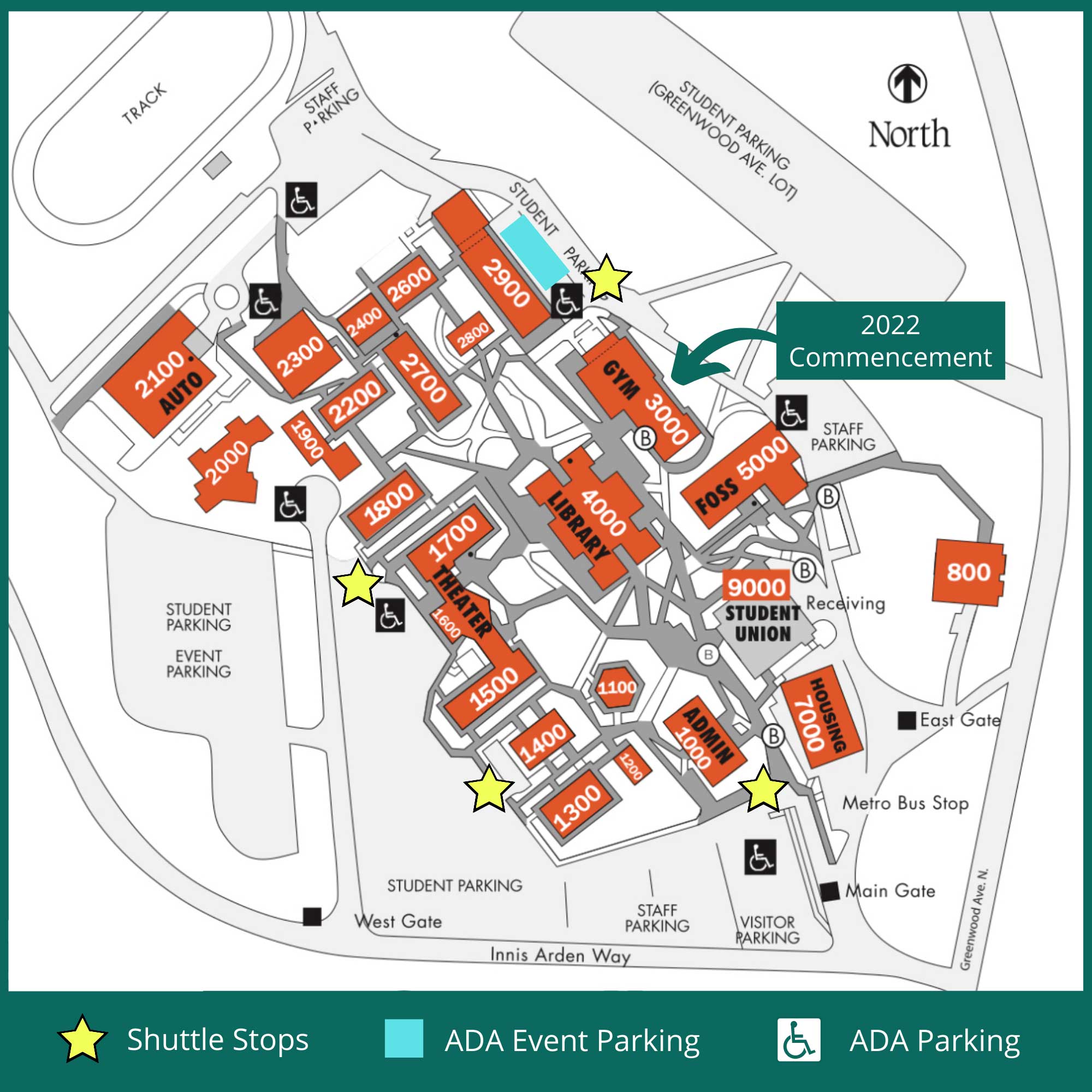 The nomination period for student and faculty Commencement speakers is now over.
We are excited to share the stories of our diverse campus community and to highlight the achievements and work of our students and faculty. Students who were not chosen to be our student speaker will still be featured in a video montage to be shown during the Commencement ceremonies.
Additionally, we are excited to recognize the contributions of our students through the presentation of the Student Service Award. Recipient(s) will receive an individual plaque and their names will be added to a permanent plaque that is displayed in the PUB (9000 Building).
We have partnered with The Commencement Group to offer leis and flowers on-site for graduates on Commencement day. To purchase flowers for your graduate, visit thecommencementgroup.com/scc and submit your order by Friday, June 17, 2022.
Diplomas are sent to graduates once a final evaluation of credits is completed and a degree is officially conferred. Diplomas are mailed to spring graduates in August/September and to summer graduates in October.