PROJECT BIOTECH
Shoreline Community College's Biotechnology Lab opens its doors to high school students for week-long explorations of biotechnology and DNA sequencing!
At PROJECT BIOTECH, students will experience:
Hands-on lab and bioinformatics activities
Face time with scientists and exposure to potential careers
A glimpse of community college life
And more!
Join us for week-long experiences in Shoreline's state-of-the-art Biotechnology Lab!
2023 Summer Camps
PROJECT BIOTECH camps are back for Summer 2023! Applications open Wednesday, March 1, 2023! Learn about the camps below and then apply online using this application.
Biotechnology Essentials and Beyond
Camp 1: Monday, July 10 - Friday, July 14, 2023 | 9:00am - 4:00pm
OR
Camp 2: Monday, July 24 - Friday, July 28, 2023 | 9:00am - 4:00pm
Biotechnology is a diverse field that includes tools and techniques that are used in all fields of biology. This camp includes micropipetting; DNA purification, PCR and sequence analysis used to identify species (also called "DNA Barcoding"); making a genetically modified organism (GMO); and visits with scientists from the Puget Sound area. This camp is designed for rising freshman, rising sophomores, and campers of any age interested in basic biotechnology training. This camp also provides all of the training needed for subsequent camps.
Molecular biology and biotechnology skills development including:
Micropipetting
DNA Purification & DNA Sequencing
Polymerase Chain Reaction (PCR)
Career panel and discussions with scientists
Using computers to view macromolecules & analyzing DNA data for species identification and genetic testing
Biotechnology and Cancer: Causes, Cures, and Careers
Monday, August 7 - Friday, August 11, 2023 | 9:00am - 4:00pm
Campers will learn about cancer biology using a case studies of breast cancer patients to explore how Enzyme-Linked Immunosorbent Assays (ELISAs), Polymerase Chain Reaction (PCR), genetic testing (bioinformatics), and Fluorescent Cell Staining are used to diagnose cancer, determine the cause of a particular cancer, and develop targeted therapies to treat cancer. Campers will also learn about the cell cycle, tumor suppressor genes and oncogenes, how mutations in genes involved in DNA repair or cell division can cause cancer, and how antibodies are used as both diagnostic and therapeutic tools. This camp is designed for rising juniors and seniors, PROJECT BIOTECH camp alumni, or other students with more biotechnology experience.
Molecular biology and biotechnology skills development including:
Genetic mutations which can result in cancer
Bioinformatics relevant to cancer diagnosis and treatment
Lab assays for DNA and protein analysis
Career panel and discussions with scientists
Location
PROJECT BIOTECH will be held on Shoreline's campus in the Biotechnology Lab in Building 2900. See the campus map and get directions to the College
Cost
Each camp costs $450 per student. Snacks are provided daily and lunch is provided on Fridays.
A limited number of financial need-based scholarships are available. If cost is a prohibiting factor in your ability to attend this camp, please email Dr. Reitha Weeks (reithaweeks@gmail.com), PROJECT BIOTECH Camp Coordinator, for more information.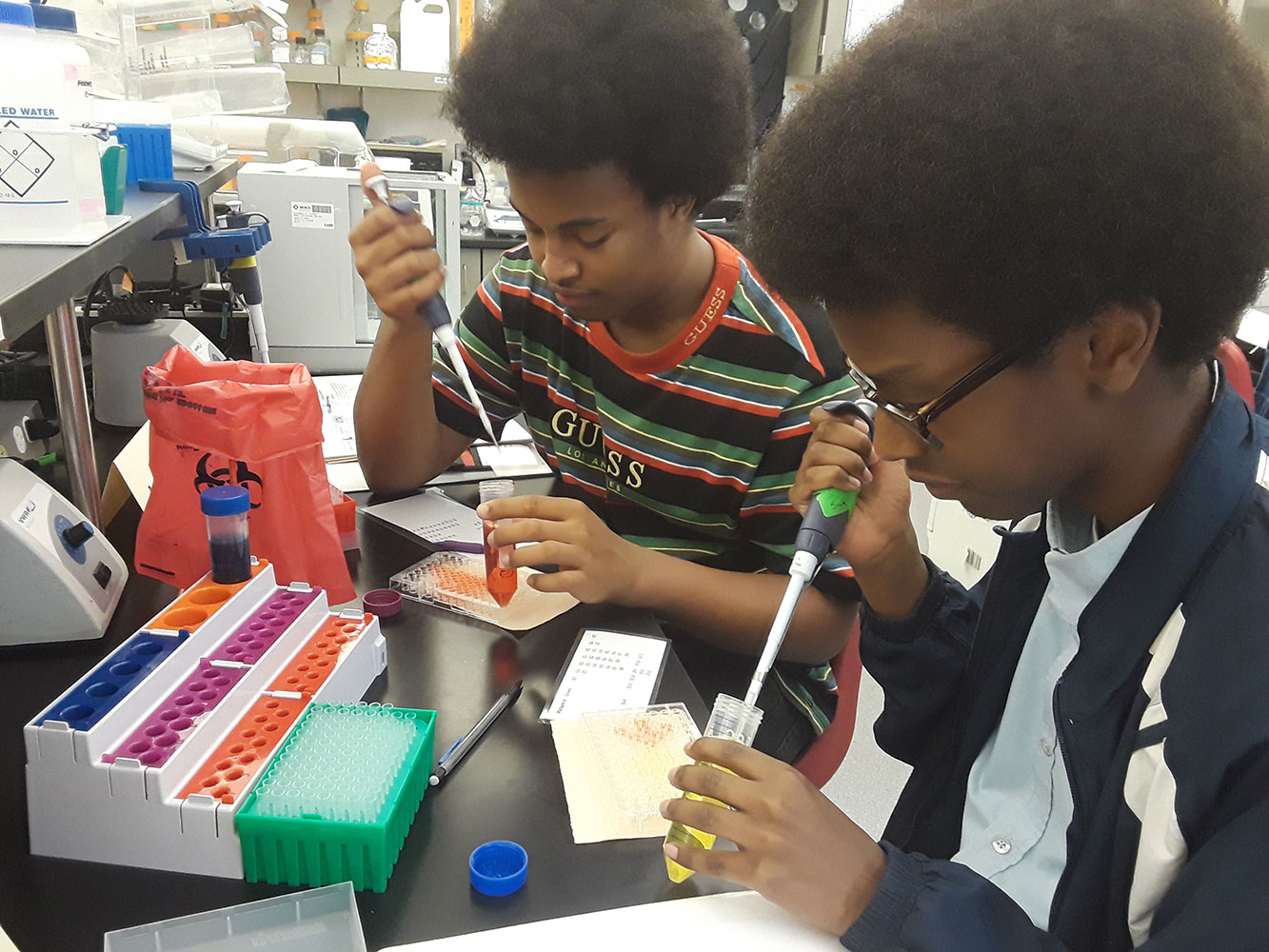 Apply to PROJECT BIOTECH
Each camp can accept only 24 students so early registration is encouraged. Applications from current 8th through 11th graders will be reviewed immediately. 12th grade student applications will be reviewed after June 15th if there are camp openings available.
For more information, and to preview the types of questions on the application, please review the Pre-Application Worksheet.
What students are saying about PROJECT BIOTECH
Thank you to our 2022 partners who helped make this camp possible!
Bristol Myers Squibb - Seagen - AGC Biologics
School district partners
Edmonds - Everett - Northshore - Shoreline - Seattle
A special thanks to:
Shoreline Community College Foundation
Town & Country Markets - Shoreline
For sponsorship information, please contact Dr. Reitha Weeks, Camp Program Coordinator, at reithaweeks@gmail.com.
Thank you to our past donors and partners:
The Norcliffe Foundation
ZymoGenetics, A Bristol-Myers Squibb Company
Seattle Genetics * Novo Nordisk * CellGene
Juno Therapeutics
AGC Biologics
Aptevo Therapeutics * Pacific Northwest Research Institute
Alturas Analytics * Covance * NanoString Technologies * Seed Intellectual Property Law Group, LLP
SystImmune * Amgen Biotech Experience * Shoreline Central Market * Thermo Fisher Scientific
2022 Summer Camps Highlights
Our 2022 PROJECT BIOTECH summer camp season ended in August 2022. We held two camps:
Week 1: Biotechnology Essentials & Beyond
Week 2: Biotechnology & Cancer: Causes, Cures and Careers
Check out video highlights from our 2022 camps: