Intramurals & Wellness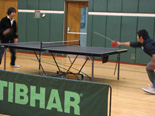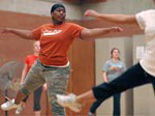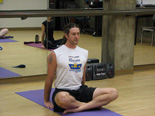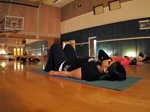 Fitness Center Open Hours Summer Quarter
Monday and Wednesday
12pm - 4pm
Tuesday and Thursday
1:30pm - 4pm
The Fitness Center will follow the Summer Quarter schedule from June 13th through August 18th. The Fitness Center will close August 22nd through September 26th.
Free Activities for Students, Staff & Faculty - Summer Quarter Schedule
Free intramural and wellness activities. Come join your fellow students, staff, and faculty in the pursuit of a fit and healthy lifestyle!
Tuesday and Thursday
12:00 p.m. - 12:50 p.m.
Room 3025
Intramural Class Descriptions
Yoga
Invigorate the body while quieting the mind. No experience is required. This class is designed for all students, staff and faculty to practice together. You'll begin to gain a deeper awareness of your body and develop higher levels of focus, balance, coordination and endurance. Attention focuses on conscious breathing, mental clarity and reduced stress while gaining strength and flexibility. Participants are encouraged to work at their own level and ability in order to work safely and effectively. The emphasis of this class is to reverse the negative effects of sitting for long periods of time and making sure you take time to be in the present moment, disconnecting form electronics which promotes unhealthy habits and poor posture.
Zumba
Zumba is perfect for everybody and every body! We take the "work" out of workout, by mixing low-intensity and high-intensity moves for a dance fitness party. Once the Latin and World rhythms take over, you'll see why Zumba Fitness classes are often called exercise in disguise. Super effective? Check. Super fun? Check and check.
Intramural Sports Clubs
Intramural Sports Clubs will return with the start of Fall Quarter
Intramural Sports Clubs

Indoor Soccer
Mon/Wed
11:00 a.m.-2 p.m.
3014
Volleyball
Mon/Wed
10:30 a.m.-1:30 p.m.
3020
Basketball
Fridays
9 a.m.-1:50 p.m.
3020
Badminton
Fridays
9 a.m.-1:50 p.m.
3020
Ping Pong
Fridays
9 a.m.-1:50 p.m.
3014
Cornhole
Fridays
9 a.m.-1:50 p.m.
3014
Contact Us
Room 3033 Enrollment Services
Shoreline Community College
16101 Greenwood Avenue N
Shoreline, WA 98133-5696
Fitness Center Hours
Monday and Wednesday
12 p.m. - 4 p.m.
Tuesday and Thursday
1:30 p.m. - 4 p.m.
Intramurals Tournaments
Basketball
3 on 3 Tournament