Parking Rates
Quarterly Pass
Students: $25 plus tax
Daily Pass 
$3 = 2 hours; 
$5 = 4 hours; 
$7.50 = All Day/Evening  
Weekend Rates
$3.00 All Day (each day) 
Parking/Traffic Citation Fee
$45 - $120 depending on the offense
Parking Permits for the main campus and Greenwood Parking lot are required for both day and evening students, as well as all weekend events.  If you have a quarterly student permit or a staff/faculty permit, you do not need to also purchase a daily permit.  A quarterly parking permit is good for day, night, and weekend parking. If you have a bicycle or motorcycle visit this page.
Quarterly student parking permits available at Cashiering in FOSS (5000 Bldg.) or the Bookstore in the PUB (9000 Bldg.)  Administrative Exempt Employees who drive to campus will be assessed a monthly, pre-tax parking fee.
Hourly and Daily Parking Permits are available on campus at 6 convenient locations on campus. 
East Gate Entrance (drive up)
West Gate Entrance (drive up)
Main Entry on Sidewalk near Metro Buses (walk-up) 
Gym/2900 Building Walk-way (walk-up) 
2500/2100 Buildings & Field Parking Lot (walk-up) 
Zero Energy House Parking Lot (walk-up)
If your parking permit is lost or stolen, please notify the Safety & Security Office in Room 5102 as soon as possible: 206-546-4633 
Parking permits are transferable. If you have to drive another car, remove the permit and reattach it to the rearview mirror of the new vehicle. 
The Pay Stations are easy to use and offer directions in the English, Spanish, Chinese, and Russian languages.When using a credit or debit card, allow 30 seconds for the machine to process and authorize your card. If you push additional buttons during this process, you may consequently purchase, and charge your card, for an additional permit. Once it is distributed from the machine, simply peel off the back of the permit and stick the permit, facing out, to your passenger-side window.  The Pay Stations accept credit cards, debit cards, and quarters as payment – no bills. A new dollar bill exchanger has been installed in the lower level of the PUB (9000 Building) and the Gymnasium (3000 Building) next to the vending machines and provide quarters, as needed. Please notify the Security Department if there is a problem at a machine.
For more information or to report a problem with a Pay Station, please contact the Department of Safety & Security at Room 5102 or 206-546-4633.
The near-by Sears lot continues to be free to students, faculty and staff, and does not require a Shoreline parking 

permit. Learn more about parking at Sears by visiting: Sears Lot Parking and Free Shuttle. Parking at Sears is convenient during busy times of day on main campus, and transports you to and from 2 designated location sites on campus. Hours are: Mon-Thurs 8:00am-4:00pm and Fri. 8:00am-2:00pm. There is no shuttle service during Summer Quarter. One large shuttle bus that accommodates wheelchairs and 2 large shuttle vans transport students to and from campus every few minutes.
Main campus parking lots are officially open 6:00am to 10:00pm, 7 days a week. It is understood that due to late night events, vehicles may be parked after 10pm for an event. For this reason, daily parking permits can be purchased up until 12 midnight, at which time the Pay Station closes. If you realize you will be here past midnight, be sure you display a valid permit or have purchased a daily permit at a pay station prior to 10pm.
The Greenwood parking lot gate closes at 10:00 p.m. Monday-Friday and is closed all weekend. There is no overnight parking allowed on campus. With advance knowledge and permission from the Director of Security, overnight parking arrangements can be made in advance for limited situations. Please call 206-546-4633 or come into the Security Department to inquire. 
The Visitor Parking Lot in front of the 1000 building is for Visitor Parking Only.  No students (including online students); No employees. The Visitor Lot will allow for 30 minutes of free parking for a visitor. After 30 minutes, additional parking time must be purchased at one of the pay stations. This is strictly enforced.  Students and employees using this lot, even with a permit of any kind will be cited.
Disabled parking requires a valid WA State disabled placard and a SCC parking permit. There are designated disabled parking spaces close to most buildings. With a valid disabled placard that was issued to the person in the vehicle at the time of parking; the vehicle is allowed to park in any parking lot.
Carpool parking is available in the Greenwood Parking Lot and at the Sear's Parking Lot only. Students are required to apply for Carpool Permit at the Safety & Security Department, Room 5102. A minimum of 2 students must apply together and must arrive together to park with a Carpool permit. Please bring valid identification and your course schedules when applying. The Carpool permit will be revoked for violations. 
Per Washington Administrative code 132G-116, all petitions of appeal must be submitted in writing via the Citation Appeal form, within five (5) working days of date of citations. It cannot be handled over the phone and photo identification is required. Filing an appeal does not guarantee a reduction and prior appeals for similar offenses are considered. Please visit the Appealing a Citation page or contact the Security Department with any questions you may have and address the citation promptly. Unpaid citations are sent to an outside collections agency.
The parking permit licenses the holder (licensee) to park one automobile in a student parking lot. The college hereby declares itself not responsible for fire, theft, damage or loss of vehicle or any article left in it. All such risks are being assumed by the licensee. Only a license to park is granted hereby and no bailment is created.
If you lose your permit, you may purchase a replacement at a charge equal to the original cost. If you find the original permit within the same quarter, the Cashier's Office will gladly give you a refund equal to the cost of the second permit. If the missing permit is found on another vehicle on college property, the owner of the vehicle may receive a citation and/or the vehicle may be impounded.
---
The permits are now hanging permits. They must hang from the rearview mirror FACE OUT with the number clearly showing. If someone does not have a rearview mirror, they can either tape the permit to the window or place it on the dashboard.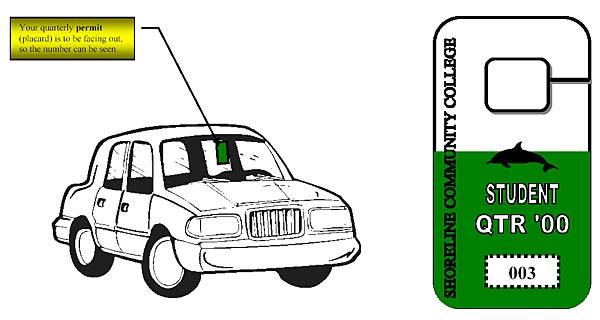 The college has the authority to impound or wheel-lock vehicles that violate parking regulations. (WAC 132G-116).
The campus parking lots are divided into two key areas, Employee parking, and Student parking. Within these two sections, the college also has designated parking areas, such as Disabled parking, Visitor parking, Day Care (20min), Motor Pool and Dental Hygiene parking. It is important for both staff and students to pay close attention to these areas; they are strictly enforced.
Below are just a few examples of signs you will see on our campus. Please pay close attention to regulatory signs and directions.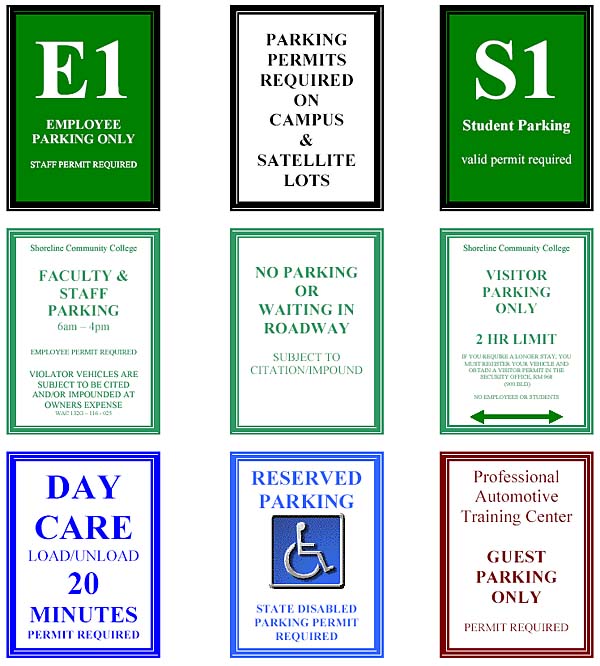 Drivers of vehicle shall obey regulatory signs and signs/traffic control devices at all times and shall comply with directions given by safety/security officers in the control and regulation of traffic and parking.
No vehicle shall be operated on the campus at a speed in excess of 15 miles per hour or such lower speed as is reasonable and prudent in the circumstances. No stopping, parking or passing is allowed in the perimeter road at any time.
Persons involved in traffic accidents on college property are encouraged to report the accident to the college safety/security department. An officer may be dispatched to file a report on the accident.
Traffic offenses: College safety/security officers may issue citations for any traffic offenses which are codified by the traffic laws of the state of Washington, traffic code of King County or the policy of the college. Due to the severe risk to public safety, traffic offenses do not require previous warning prior to the issuance of a citation.
Vehicles shall be parked on college property only in those areas set aside and designated as parking areas. In any area requiring a special parking permit, i.e. dental hygiene, no vehicle shall park without said permit. Parking is allowed in marked spaces only. Parking triangles, along roadways, or along parking lot curbing is prohibited.
No person shall stop, stand, or park a vehicle at any place where official signs, curb, or pavement markings prohibit parking, nor within fifteen feet of a fire hydrant or ten feet of any building, nor at any place for which the vehicle does not have a valid parking permit. Any vehicle not parked in a marked/designated parking stall shall be considered illegally parked.
The parking spaces available on college properties shall be assigned by the college safety/security department in such a manner as will best meet the objectives of these regulations. The safety/security department is authorized to mark various parking areas on college property with numbers or titles or by posting of signs, curb, pavement markings, or traffic control devices.