Financial Aid
Shoreline Community College can help you apply for aid and access a full range of financial assistance programs. Eligibility for each program can vary widely, so it is important to understand the requirements for the particular types of aid you may be seeking.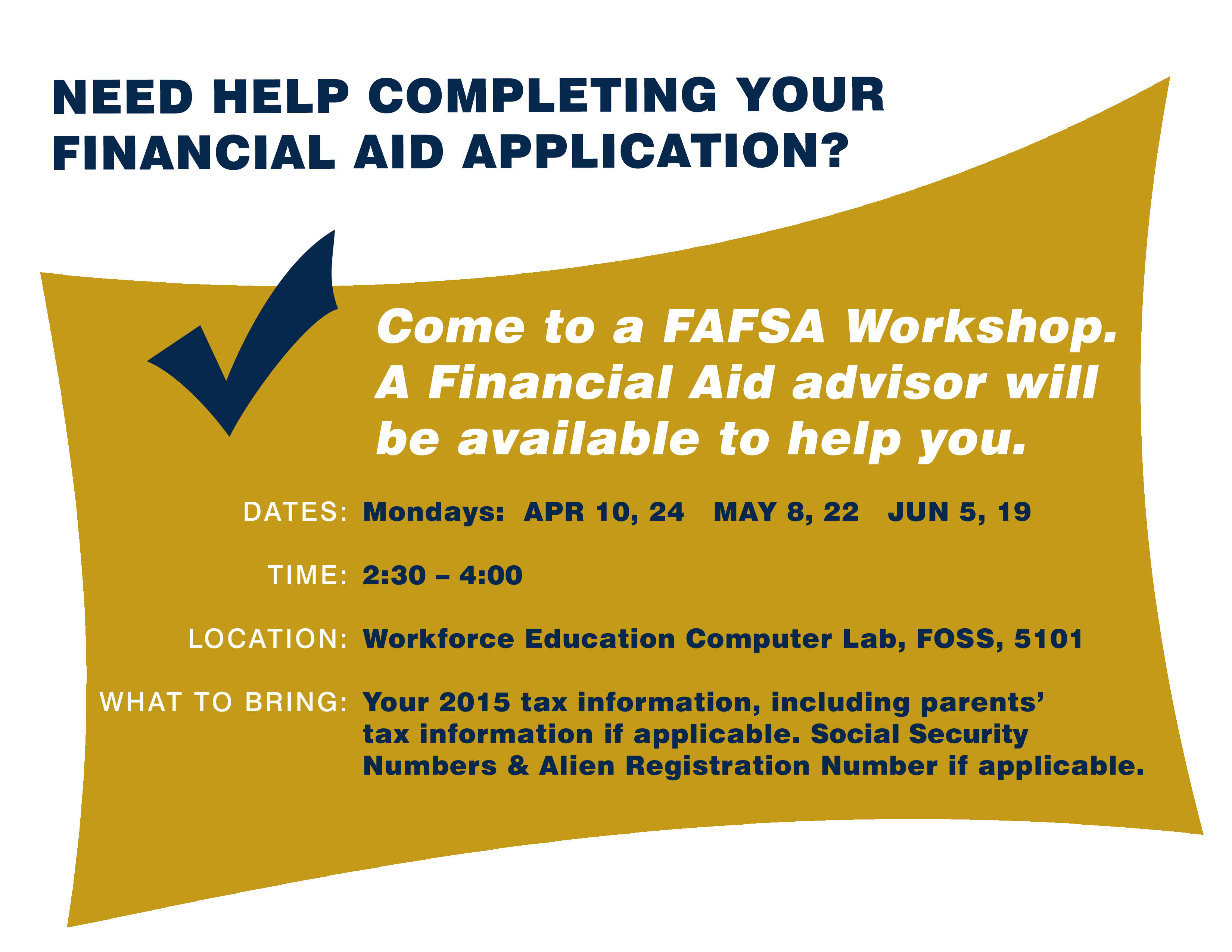 Application Deadlines
2017-2018


Quarter
Deadline
Summer 2017
4/7/17*
Fall 2017

6/9/17*

Winter 2018

10/20/17*

Spring 2018

1/09/18*
*You can apply for financial aid after these deadlines. If you miss the deadline you may still be eligible for aid, however you should plan to pay all tuition and fees until your eligibility is determined. Please contact our office for information about payment options.
Aid disbursements and refunds
All financial aid refunds are disbursed through our partner BankMobile, a financial services company serving higher education. With this refund disbursement process you will have the ability to access your refund. You will be mailed a refund selection kit and an email to access your personal code. Your personal code is important and will be used to validate your identity.
Funds Availability
Spring Quarter 2017:
Grant and loan funds are available beginning Friday, March 31st.
You must activate your Bank Mobile account and select one of the following delivery options at www.refundselection.com:
Direct deposit to an existing financial account, usually available within 2-3 days after funds are initiated at Shoreline or,
Direct deposit to your My Shoreline Card account. Funds are usually available as soon as the funds are awarded, beginning at the start of each quarter or,
Paper check, which is mailed within 5-7 day after funds are initiated from Shoreline.
If you do not select a refund delivery preference a paper check will be sent through U.S. Mail, which could result in a delay of approximately 3 weeks after aid disbursement.
Funds are available if students:
Are awarded financial aid (award notifications are generally sent to student go.shoreline.edu email accounts)
Are making the required academic progress
Registered for the correct number of credits
Do not have a block on their account (i.e., parking fine)
Contact Us
Federal School Code: 003791
Shoreline Community College
Financial Aid
FOSS (5000) Building
16101 Greenwood Ave. N
Shoreline, WA 98133

(Be sure to include a contact phone number and student identification number (SID) number when leaving a message.)
Hours
Monday - Thursday
8 a.m. - 5 p.m.
Friday
8 a.m. - 4:30 p.m.