Student Lab 4102
Welcome to Student Lab 4102!
Open to ALL current Shoreline students
Funded with student technology fees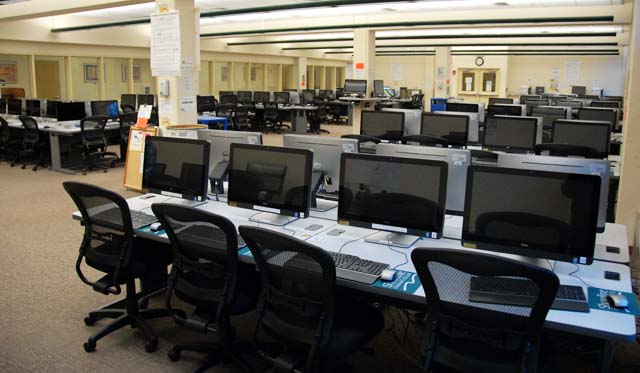 Available Software & Hardware
Software
7-Zip
Adobe Acrobat
Adobe Flash
Citrix Receiver (#41-50, 96)
Design Review (#1-100)
Google Sketch Up
Google StyleBuilder 2014
Google Chrome
IrfanView
JAVA
Keyboarding Pro Deluxe 2
KeyTime
Marvin Beans Suite
Mathematica v.9 (#1-4)
Microsoft Office 365
MS VISIO
Read Write Gold
Respondus
Sketchup Make
Skill Building Pro
VLC Media Player
Hardware
85 Dell systems
5 iMacs
"Value Add Station"
1 color laser printer
3 black and white laser printers
Scanners
Other Lab Services
Student Network Account and Wi-fi
Learning Labs/Distance Education
Policies
Network Accessibility for Laptops
Questions?
Visit our Support Center where you can find the answers to your questions, chat with a live agent, or submit a request for additional assistance.