Student Lab 4102
Computer Lab reopening January 2022
Student Lab 4102 will reopen in January 2022. Utilize this quiet work space by bringing your own computer or use ours! Printers are available for use and a lab technician is always on hand for technical assistance.
If you need access to a laptop or other equipment, see the Equipment Checkout page.
Welcome to Student Lab 4102!
Open to ALL current Shoreline students
Funded with student technology fees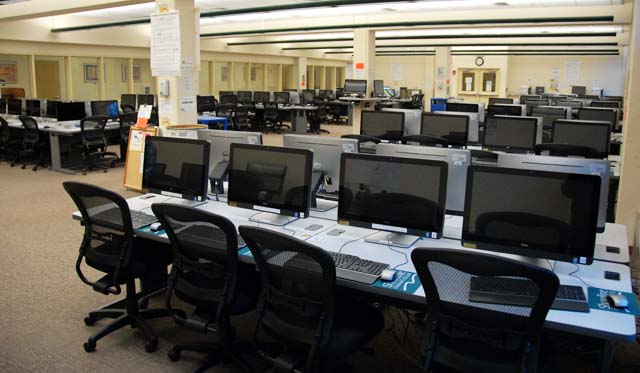 Available Software & Hardware
Software
7-Zip
Adobe Acrobat
Adobe Flash
Citrix Receiver (#41-50, 96)
Design Review (#1-100)
Google Sketch Up
Google StyleBuilder 2014
Google Chrome
IrfanView
JAVA
Keyboarding Pro Deluxe 2
KeyTime
Marvin Beans Suite
Mathematica v.9 (#1-4)
Microsoft Office 365
MS VISIO
Read Write Gold
Respondus
Sketchup Make
Skill Building Pro
VLC Media Player
Hardware
85 Dell systems
5 iMacs
"Value Add Station"
1 color laser printer
3 black and white laser printers
Scanners
Other Lab Services
Student Email and ID Cards
Learning Labs/Distance Education
Policies
Network Accessibility for Laptops
Questions?
Visit our Technical Support Center where you can find the answers to your questions or submit a request for additional assistance.