Forensic Science Summer Camp
Camp participants will immerse themselves in a fictitious, yet realistic, crime scene simulation and spend the week solving the case. Evidence is collected from the recreated crime scene and dig site for laboratory analysis involving 8 different fields of study in forensic science.
---
Dates: June 25-29, 2018
---
Time: 9AM – 3PM daily
Ages: Rising 7th-9th graders
(Ages 12 – 15)

---
Cost: $450

---
Where: Shoreline Community College
Bldg. 2900, Rm. 2904
16101 Greenwood Ave. N.
Shoreline, WA 98133
---
Priority Registration Deadline: May 15, 2018
---
The Case of Jimi Jurkwahd:
Criminal Arrest or Cardiac Arrest?
Teams pursue realistic crime scene investigation
Complete 13 different hands-on forensic science labs
Guest experts teach alongside professional camp staff
Each day is infused with entertaining intrigue where camp participants view video footage of suspect interactions that leak clues and potential motive. On the last day, teams interrogate their main suspect, and present their cases to a prosecuting attorney. A short reveal-film of what "actually" happened concludes the camp.
Registration information
This camp is designed

to maximize each camper's

hands-on time with real laboratory equipment, instruments, protocols and anatomical tissue, while exposing them to a broad spectrum of scientific fields of study and the professionals who do them. This camp bridges the summer gap for middle school to early high school age students (12 – 15 years by the start date of camp).

Limited to 28 campers. After 28 paid applications are accepted, a waitlist will be created in first-come / first-served order.

Please bring a water bottle and lunch with you each day, or plan to buy lunch at the PUB Student Union Building. The camp will provide snacks each day.

Be prepared for lunchtime games outside (kickball, dodgeball, etc.).

Drop off behind the 2900 building. Please be ready to start each day at 9AM (you may arrive as early as 8:45 AM). Pick up is at 3 PM.

On the final day, parents are welcome to attend the "Reveal" from 2-3 PM to find out WHO DUNNIT!!
Refund policy
Please let us know as soon as possible if your plans change and you cannot attend camp. To cancel your registration, notify community-ed@shoreline.edu
Full refund will be issued for any registration cancellation made at least 30 days prior to the start of the camp.
50% refund will be issued for any cancellation made at least 15 days prior to the start of the camp.
No refund if cancelled less than 15 days prior to the start of the camp.
Should a refund occur, the college will issue a check payable to the camper and mailed to the camper's address in the application.
Partners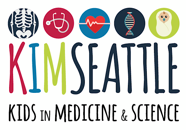 Hosted by Shoreline Community College
In partnership with KIM Seattle (Kids in Medicine & Science)

Shoreline Community College is committed to nondiscrimination. To request disability accommodation, contact Services for Students with Disabilities at least ten days in advance at: 206.546.4545/V, 206.546.4520/TTY, 206.533.5109/FAX, or SSD@shoreline.edu.
Contact Us
Continuing Education