Coronavirus (COVID‑19) Updates
The health and well‑being of our campus community is our highest priority. As this public health situation continues to develop, the College will provide regular updates to keep you informed.
Current Status of Campus
Remote Classes & Operations
The College is primarily operating remotely, with services available by email, phone, and video appointments
Summer classes are hybrid and online and begin June 28
Fall classes are hybrid and online and begin September 29
General Information
In addition to the limited set of professional & technical programs that have continuously been operating on campus throughout the pandemic, students can enroll in several different hybrid classes from a variety of programs and disciplines, including Biology, Drama, Human Development, Mathematics, and Physical Education.
All buildings are closed to the public unless otherwise coordinated with the college.
Students and visitors coming to campus must submit a Campus Access form prior to arriving on campus. A new attestation is required each day.
Upon arrival each day, students and visitors will be required to go to the check-in station in room 2910 in the 2900 building (see map below). Starting on July 26, students no longer need to go to the check-in station. Simply fill out the form before arriving on campus.
The 7000 Campus Living residence hall remains open to residents only
For questions about campus access or personal protective equipment (PPE), please email covidsupervisor@shoreline.edu or call (206) 546-7651.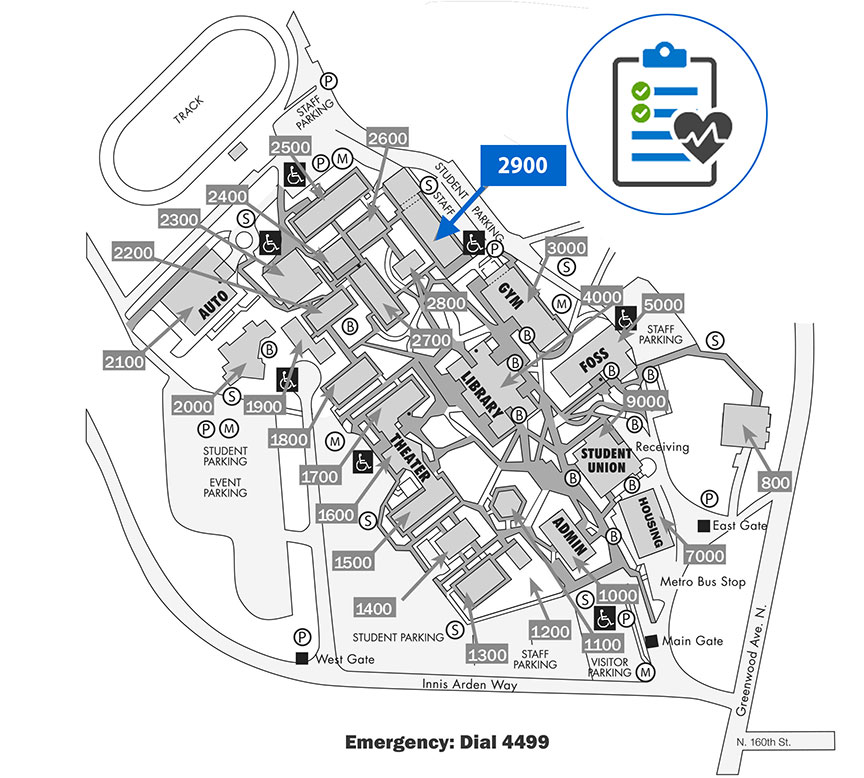 If you are picking up or dropping off materials and not accessing any buildings or spaces on campus, you should use Shoreline's Curbside Pickup/Drop-Off program, located in 2905. To access this service, complete the Materials Pick-Up/Drop-Off form. A College employee will contact you to set up an appointment.
COVID-19 vaccinations are not currently required at Shoreline, but state higher education guidance could change in the future. The College strongly recommends all students get a vaccine. Find a vaccine location near you.
*Certain programs require students and faculty to be vaccinated. Students in these programs will have already been contacted.
Interational students: The CDC is not currently requiring vaccines to travel to the U.S.
Students must do the following when coming to campus:
Follow instructions from Shoreline faculty and staff.
Wear a mask at all times while indoors on campus, regardless of vaccination status. Mask wearing is not required while outdoors.
Stay home if you are feeling sick.
Follow any specific class safety practices communicated at the start of the quarter.
If you've been exposed and have been on campus, please fill out the exposure reporting form. This is a confidential report for contact tracing puposes.
Fill out the exposure report form now
Get A Shot at A Scholarship!
Shoreline students who are vaccinated by July 30 will be entered into a drawing for ten $1,000 scholarships!
Haven't been vaccinated yet? Get your first shot by July 30 in order to be automatically entered!
Already received your shots? You'll be automatically entered to be selected – no action needed! (Students who are selected will be contacted with instructions for how to verify proof of vaccination.)
On July 30, the College will select 10 students to receive a $1,000 scholarship to apply to Shoreline tuition and fees during the 2021-22 school year. Funds will be dispersed between October 1, 2021 – June 30, 2022.
Scholarships are open to all Shoreline students who:
Completed 6+ credits during Spring Quarter 2021
Did not graduate/complete their program and will take classes at Shoreline in Fall 2021, Winter 2022, or Spring 2022
Are Washington residents (who have lived in the state since at least May 30, 2021)
Can provide proof of receiving at least one shot of a COVID-19 vaccine regimen before July 30, 2021
International, Running Start, ESL, and ABE students who meet the criteria above are eligible to be included in this drawing.
Acceptance of a vaccine incentive scholarship may affect a student's eligibility for, and calculated amounts of, federal financial aid and/or public assistance programs. Any unclaimed awards may be redistributed to other eligible students before June 30, 2022. Funding is provided by the Washington State COVID-19 Vaccination Incentive Program.
International Students - see more answers to Frequently Asked Questions for international students
How to Reach Us
Our services and offices are operating – we're just not on campus! Our caring staff is available to help students and the public via phone, email, and video appointments. To find a service:
Support & Resources
All campus services are available online and by phone, email, and video appointments.