Transfer Planning Guides | Course Descriptions | Class Schedule
The Communication Studies Department provides students with attitudes, skills, and knowledge that will allow them to communicate effectively, clearly, persuasively, and vividly. Specific skills students will demonstrate are critical thinking, listening, problem solving as a group member, speech composition and presentation, conflict management, relationship maintenance and enhancement, and dramatic interpretation. In keeping with the SCC's strategic plan, the Communication Studies program emphasizes critical multicultural and intercultural education that teaches students to operate effectively in an increasingly multicultural society.
We offer a wide variety of courses in speech and communication.  Classes are offered in different formats, both on-campus and online. On-campus classes are scheduled throughout the day with morning, afternoon, and evening offerings.  Some of the courses offered are:
Introduction to Communication
Public Speaking  
Interpersonal Communication
*Communication for Social Change
Intercultural Communication
The Art of Storytelling
*Multicultural General Education Degree Requirement
The Transfer Degree is designed to provide students with a broad liberal arts background of study during their first and second years of college. The state's two-year and four-year schools developed transfer agreements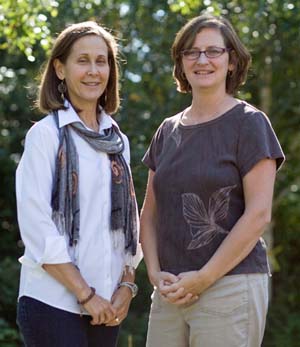 Carol Mimi Harvey and Brooke Zimmers
that allow students from a community college to transfer at least 90 credits (60 semester credits) to a four-year college or university. The degrees satisfy some - or all - general requirements for a bachelor's degree.
As a student at SCC, you will have the opportunity interact directly with our outstanding, award-winning faculty who are interested in your education goals. Our faculty are available to answer your questions.